AAES School and College News
The following is news from our AAES-affiliated schools and colleges. For more information on the teaching, research, outreach or development activities of any of these academic units, contact them directly at their respective phone numbers or Web sites.
---
---
Music Group Alabama Named Quality of Life Award Winner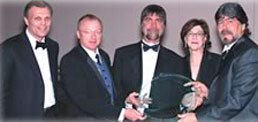 Picutred, from left, are Charlie Anderson, President and CEO of Anderson News Corporation; Mark Herndon; Teddy Gentry; June Henton; and Randy Owen.
The legendary music group Alabama was the recipient of the 2003 International Quality of Life Awards presented in December by the AU College of Human Sciences during a ceremony at the United Nations in New York City.
Composed of Randy Owen, Teddy Gentry, Jeff Cook and Mark Herndon, Alabama is indisputably one of contemporary music's superstar bands. The band, with its 42 number one singles and 21 gold, platinum and multi-platinum albums, has been honored with more than 150 music awards including "Country Group of the Century" in 1999 by the Recording Industry Association of America. Alabama's incredible success ranks it among the 10 biggest-selling bands in the history of popular music.
Throughout its career, Alabama has used its musical artistry to promote core values that emphasize a positive outlook on life, strong work ethic, commitment to family and home and a spirit of honesty, humility and gratitude. Band members, both individually and collectively, have used their celebrity status to give back in countless ways to children and families in their home state and throughout the nation. In recognition and appreciation of the group's philanthropy, Alabama has been honored with multiple humanitarian awards, including the Bob Hope Humanitarian Award and the B.M.I. President's Trophy for public service.
"There was no better choice than Alabama to represent what musicians and their creative artistry contribute to our spiritual and emotional well-being and to the enhancement of the total human experience," says June Henton, dean of the AU College of Human Sciences. "What the Beatles did for rock 'n' roll as a band in the '60s, Alabama did for country music a decade or two later. Staying true to its country roots, the band developed a contemporary sound that literally rocked the entertainment industry."
The 2003 International Quality of Life Awards marked the 10th anniversary that the AU's College of Human Sciences has recognized outstanding citizens from various professional sectors whose work reflects a dedication to pursuing innovative ways of enhancing the lives of people and communities, both locally and worldwide. Past honorees include former U.S. Secretary of State Madeleine Albright, founder and President of Habitat for Humanity Millard Fuller; Archbishop Desmund Tutu of South Africa; and Catherine Bertini, director of the United Nations World Food Programme.
---
---
Updates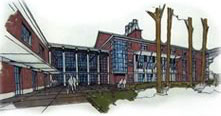 Artist's rendition of new forestry building on Duncan Drive.
The School's Peaks of Excellence program–The Center for Forest Sustainability–was reviewed by an external panel of scientists in 2003 and came through with shining accolades. The review committee's report was very positive and supportive of the progress made by this program. They highly praised the strong interdisciplinary effort that has been directed toward the subject of forest fragmentation and urbanization that these scientists are exploring.
Progress on the School's new building is excellent. The foundation is well along, with many yards of concrete already poured for the 109,000-square-foot facility located on Duncan Drive in Auburn. The live Webcam at www.sfws.auburn.edu/building/construction allows anyone, anywhere to check the day-to-day progress.
Best wishes to Yula Kindell, office associate in the School, who retired in 2003.
---
---
Veterinary Medicine Opens New Hospital, Welcomes Friends
Auburn University's College of Veterinary Medicine has completed construction of its John Thomas Vaughan Large Animal Teaching Hospital, which was dedicated in August 2003.
"Auburn University is moving from having the oldest facility in the country to the newest, most modern one," says Timothy Boosinger, veterinary dean. "This will allow us to make more advances in the medical care of animals and provide much more experience for our students."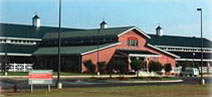 John Thomas Vaughan Large Animal Teaching Hospital
The hospital covers 71,500 square feet and has modern surgical suites, an intensive care unit, a pharmacy, a radiology section, a field services unit, offices, a conference room and a 60-seat classroom. The hospital is just one part of a 120,000-square-foot complex. Already in operation are an equine lameness arena with hard and soft surfaces, as well as two equine wards and an isolation facility. The College plans to begin work this spring on two beef cattle wards and two dairy cattle wards.
The College also will host its 27th Annual Open House on Saturday, April 24, 8:30 a.m. to 2 p.m., at its campus on Wire Road in Auburn. There will be college tours and scientific displays, plus a dog agility course, animal art exhibit, petting zoo, teddy bear surgery, parade of breeds of dogs and horses and many other attractions. For information, call the College of Veterinary Medicine at 334-844-3699 or 1-800-483-8633, or visit the College Web site.
---
---
Construction of the COSAM Science Laboratory Center is Under Way
Within the center, which will be located in the vicinity of Parker Hall on the Auburn University campus, a four-story building will house the undergraduate teaching laboratories for chemistry and biology. A two-story building will accommodate classrooms of various sizes and the COSAM dean's office, while a 300-seat auditorium will provide means for the latest in technology-supplemented instruction. As with the auditorium, the entire complex will feature all levels of instruction and technological features to meet the needs of the 21st-century student. The two-story building and auditorium are scheduled for completion in 2004 with completion of the four-story building scheduled for 2005. The entire project is envisioned to result in a COSAM academic park.
For more information on the buildings and naming opportunities, contact COSAM Development Officers Tammy Beck Hartwell (becktam@auburn.edu) at 334-844-1449 or Sherri Rowton (rowtasj@auburn.edu) at 334-844-1235.
---
Around the AAES
Ground Broken at Wiregrass Center
Ground was broken recently on new facilities for the Wiregrass Research and Extension Center (WREC) in Headland, an outlying research unit of the AAES that has been a hub of peanut research for many decades.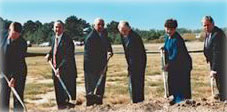 Dignitaries dig in at Wiregrass ground-breaking.
Using $1.5 million in proceeds from the 1998 State Agriculture Bond Issue, the building project will provide a new 3,120-square-foot office building to replace an old Quoncet hut where Extension personnel were housed until last year.
The project also includes renovations to the existing AAES office building and improvements to parking areas, sidewalks, roads, the landscape and upgrades in water, sewer and power service lines.
John Jensen, interim director of the AAES and CoAg dean, said the renovations mark a new era for the Wiregrass region of Alabama.
"In an average year, some 100 tests are conducted under the guidance of Center personnel and 20 to 25 project leaders from as many as seven CoAg academic departments," Jensen said. "But research is not the only facet of this facility. It has long had an Extension component located right here on the premises and the cooperative work between these two sectors has offered great benefits to the agricultural community."
Gaines Smith, interim director of the Alabama Cooperative Extension System, noted that research and extension activities are interdependent and together the two organizations help farmers as well as consumers benefit from the science-based information that is developed at sites such as this.
Also speaking during the ceremony, Golda McDaniel, a member of the AU Board of Trustees, said, "Auburn University's mission is to provide research, teaching and outreach services to Alabama's citizens. While each of these three duties is important independently, the three also are interconnected. The interconnection among these three duties is fully exemplified today as we break ground on these new buildings."
---
Second Annual Butler/Cunningham Conference Focused on Land Use Issues
"Trends and Opportunities for Rural Land Use" was the title of the second annual Butler/Cunningham Conference on Agriculture and the Environment held last fall in Montgomery, Ala.
The meeting drew some 120 people, including about 30 participants from out of state who addressed issues of land use in Alabama and rural communities.
The first Butler/Cunningham Conference, held in fall 2002, provided general background on agriculture in Alabama. This second conference highlighted the fact that, while Alabama is still rural, Alabama rural land is no longer used predominately for traditional row crop agriculture. Many other uses for land have developed in Alabama.
Program organizers note that Alabamians must understand the alternative uses, how they fit into the total picture including taxation and government, and what impacts they have on rural society and economies.
One of the largest changes has been from traditional mixed pasture and light food crops to intensive growing of trees with no mixed pasture, so that today Alabama is more than 70 percent forested, and wood product production is consistently among the largest industries in Alabama.
The next conference, to be held in November 2004 in Montgomery, will use results from the latest government data, coming out in the spring of 2004, to update the situation in Alabama and to compare Alabama with the nation. Organizers will also be looking at appropriate future institutional responses to issues of rural life, such as the fate of farm families, community development, the urban-rural interface and the environment.
This year's conference also was the catalyst for a Troy State Public Radio series on Alabama agriculture during which numerous CoAg faculty members shared their views on a wide range of agricultural issues. The radio series will continue through 2004 on Troy State Public Radio's "Community Focus" segment aired during the noon hour in parts of Alabama.
---
Farm Safety Highlighted at Brewton Research Unit
Children from the Escambia County area were able to learn firsthand about farm safety thanks to a Progressive Agriculture Foundation and Progressive Farmer Farm Safety Day Camp held recently at the AAES's Brewton Agricultural Research Unit in Brewton, Ala.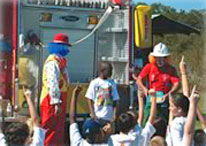 Fire Safety was the focus of a Farm safety Day Camp.
Some 150 children attended the event, which featured information on a wide range of safety issues found on and around the farm. Among the topics discussed were first aid and sun safety, using 911 services in case of an emergency, the safe use of all-terrain vehicles, household chemical safety and how to read labels, farm/lawn equipment safety, electrical safety around the home, fire safety and fire arms safety.
The event was cosponsored by the AAES (Brewton Unit), the Escambia County Soil and Water Conservation District, Escambia County 911, Alabama Cooperative Extension System, the Southern Pine Electric Cooperative, Escambia County Search and Rescue Team, D.W. McMillian Ambulance Service, East Brewton Fire Department and the Escambia County Alabama Farmers Federation Young Farmers Committee.
"The event was a huge success," says Brewton Unit Superintendent Randy Akridge. "Since the safety day, we've heard parents comment that their children had shared information learned that had helped make the entire family more safety conscious."
For more information about the Brewton Unit or the Brewton Farm Safety Day Camp contact Akridge at 251-867-3139 or akridjr@auburn.edu or visit their Web site at www.ag.auburn.edu/aaes/outlyingunits/brewton. For more information on the national Farm Safety Camp program call 1-888-257-3529 or e-mail farmsafetyday@aol.com.
---
Grower Meeting Prompts Organic Farming Research
A meeting organized by two CoAg faculty members for Alabama vegetable growers interested in producing crops organically has led to the AAES's first organic farming research project.
Close to 100 people–nearly double what AU plant pathologist Joe Kloepper and rural sociologist Joe Molnar had anticipated when they set up the meeting–gathered in Birmingham in November for "Edging Toward Organic Vegetable Production: Possibilities and Considerations for Alabama Growers."
"This meeting showed us that a lot of Alabamians, including a growing number of conventional farmers, are looking seriously at farming organically on at least some of their acreage, but they want to be able to base it on solid, scientific information and hard data," says Kloepper.
That's what AAES scientists will provide through their research, which will replicate all the steps a conventional grower would be required to take to become certified organic.
Under USDA rules, land cannot be certified as organic until it has been through a three-year transition period in which it is treated strictly according to federal organic standards. A government-approved certifier then inspects the farm to make sure the grower is following all the rules necessary to meet USDA organic standards.
Grower input will help determine the focus of research, the ultimate goal of which will be maximizing production. The AAES research project will be conducted on a three-acre site at the North Alabama Horticulture Research Center in Cullman.
---
Gulf Coast Center Hosts AALGA "Innovations in Agriculture" Program
A special agricultural expo entitled "Innovations in Agriculture" was held in November, 2003, at the AAES's Gulf Coast Research and Extension Center (GCREC) in Fairhope offering information on everything from satsuma oranges to shrimp and from crapemyrtles to beef cattle.
The expo, sponsored by the Alabama Agricultural Land Grant Alliance (AALGA), showcased how Alabama's land grant universities work to assist and promote agricultural development in south Alabama. AALGA is a partnership among Auburn, Alabama A&M and Tuskegee universities that addresses opportunities and problems in Alabama's agricultural sector. AALGA's goal is to improve agriculture by combining the resources of all three universities to address a wide range of agricultural and rural issues. A variety of joint projects already are under way and more are planned for the future.
The Innovations in Agriculture expo highlighted such commodities as satsuma oranges, pecans, peanuts, cattle, pecans, ornamentals and turfgrass. It also addressed new research in aquaculture, including farm-raised shrimp and tilapia, red snapper, oysters, catfish and bait shrimp.
For more information on AALGA, visit their Web site at www.aalga.org or write to P.O. Box 4063, Montgomery AL 36103-4063. To be added to the AALGA newsletter mailing list, send an e-mail to info@aalga.org. You can also contact the deans and directors involved with AALGA at the following numbers: Auburn University, 334-844-3207; Alabama A&M University, 256-372-5781; or Tuskegee University, 334-727-8327. Information on the research under way at GCREC is available by calling the Center at 251-928-2740 or at www.ag.auburn.edu/aaes/outlyingunits/gulfcoast.
---
Ornamental Horticulture Research Center Site for Two Fall Tours
The AAES's Ornamental Horticulture Research Center (OHRC) in Mobile, Ala., was the site this fall for two tours geared to the nursery industry.
The first, an Ornamental Horticulture Field Day held in October, drew participants from the nursery, greenhouse and landscaping industry as well as home gardeners and others interested in ornamental plant production.
The program featured speakers from the AU College of Agriculture and other agencies discussing disease and insect pests of ornamental crops, fertilizer and herbicide regimes for ornamental crops, plant growth regulators and varietal studies.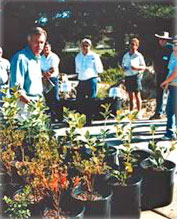 Growers learn about ornamental shrubs in Mobile.
In December, the OHRC was again on tour as part of the Alabama Nurserymen's Association's first annual Legislative Appreciation Day. The Legislative Appreciation Day offered information on Alabama's nursery industry–an industry that represents some $200 million in annual sales and involves more than 300 producers statewide. The event featured tours of several area nurseries as well as the OHRC to provide an insider view of one of Alabama's fastest growing industries.
More information on the research and outreach activities under way at OHRC is available by contacting OHRC Superintendent John Olive at 251-342-2366.
---
Thanks for the Memories
In August 2003, in an effort to deal responsibly with continuing funding shortfalls, the AAES offered employees the opportunity to participate in a voluntary severance plan.
Forty-eight AAES employees chose to accept the option.
We are saying goodbye to some wonderful employees who have collectively given more then 1,235 years of service to the AAES, Auburn University and the citizens of Alabama. We send a fond farewell to them all.
John Jensen, interim AAES director, states, "We appreciate all the contributions of these fine employees and wish them the best in their future pursuits."
The following is a list of all those AAES employees who participated in the severance plan.
Anita Adams, Fisheries and Allied Aquacultures
James Baier, Biosystems Engineering
Trudy Barnes, Agricultural Economics and Rural Sociology
Robert Blaylock, Animal Sciences
Ollie Blevins, Black Belt Research and Extension Center
Robert Burdett, Agronomy and Soils
Hoyt Burgess, Tennessee Valley Research and Extension Center
Judith Burgess, Tennessee Valley Research and Extension Center
Charles Calfee, Chilton Research and Extension Center
Osa Connell, Research Operations
Lonnie Cottles, Tennessee Valley Research and Extension Center
Jerry Crews, Agricultural Economics and Rural Sociology
Larry Curtis, Biosystems Engineering
Zandra Delamar, Entomology and Plant Pathology
Clinton Dowdell, Animal Sciences
Micheal Duffle, Black Belt Research and Extension Center
John Dunkelberger, Agricultural Economics and Rural Sociology
Michael Eckman, Poultry Science
John Everest, Agronomy and Soils
John Filmore, Poultry Science
Clifford Flood, Biosystems Engineering
Lowell Frobish, Animal Sciences
Richard Guthrie, College of Agriculture/AAES Administration
Willie Hill, Poultry Science
Glenn Howze, Agricultural Economics and Rural Sociology
Elaine Hunter, College of Agriculture/AAES Administration
Lacy Hyche, Entomology and Plant Pathology
Pingsheng Ji, Agronomy and Soils
Dannie Johnson, Black Belt Research and Extension Center
William Jones, Animal Sciences
Peyton Kelly, Research Operations
Peggy King, Entomology and Plant Pathology
James Kratochvill, North Alabama Horticulture Research Center
Zhi-Ren Liu, Animal Sciences
Leonard Lovshin, Fisheries and Allied Aquacultures
John McVay, Entomology and Plant Pathology
Dorothy Messer, Chilton Research and Extension Center
Mary Moore, Fisheries and Allied Aquacultures
Buelon "Pete" Moss, Animal Sciences
Robert Nelson, Sand Mountain Research and Extension Center
Joseph Nespor, Gulf Coast Research and Extension Center
Glenn Robertson, Entomology and Plant Pathology
Wendell Scott, Sand Mountain Research and Extension Center
Don Seay, AAES Administration
Ronald Smith, Entomology and Plant Pathology
Dwight Ward, Research Operations
Charles Weaver, Entomology and Plant Pathology
Kendall Yulac, School of Forestry and Wildlife Sciences
---
Research Briefs
Why the Grass is Always Greener
To some, that grassy spread of land at the busy intersection of South College Street and Shug Jordan Parkway in Auburn may appear to be a prime piece of real estate lying idle in an otherwise rapidly developing commercial district. In reality, though, those 14 acres are home to the Auburn University Turfgrass Research Unit, a hotbed for discoveries and solutions that have a multi-million-dollar impact on Alabama's economy annually and are a boon to the state's recreational industry.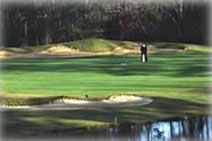 Alabama's golf industry benefits from turfgrass research.
Take Alabama's booming golf industry, for instance. Research that CoAg agronomy professor Harold Walker conducted at the unit has given golf course superintendents–not just in Alabama but across the South–the herbicide TranXit™, a powerful weapon against poa annua (annual bluegrass), an unwanted grass that as recently as last year was one of their most troublesome enemies. One result: smoother, more consistent putting greens, which help enhance Alabama's reputation as a golf destination.
---
Focus on the Family: Marital Conflict and Sleep-deprived Kids
The link between parental conflicts in the home and sleep deprivation in children is the focus of a study now under way at Auburn.
Mona El-Sheikh, human development and family studies professor in the College of Human Sciences, and others are evaluating the effects of home conflict on children's sleep patterns and the multitude of other emotional and physiological problems that such sleep deprivation can cause.
This study is one of 22 research projects that were awarded grants through the new, competitive AAES Foundation Grants Program. The program gives priority to projects that show the most potential for generating preliminary data that researchers can use to secure additional funding from sources outside of Auburn.
---
Ground-level Ozone: The Nutrient-zapper
Ground-level ozone–aka smog–is caused by pollutants emitted from power plants, industries and vehicles and, as such, is largely a product of urban areas.
But it isn't just a big-city problem. As recent AAES research has shown, ozone drifts to rural areas and inflicts its damage on trees, plants and grasses in the countryside, too. Specifically, ongoing research by AU ruminant nutritionist Russ Muntifering indicates that ground-level ozone in rural areas threatens the well-being of livestock and wildlife because it robs forage crops of nutrients and makes pasture grasses less palatable and harder to digest.
His data regarding the specific ozone levels at which this damage begins to occur will be used by the Environmental Protection Agency in revising the national air-quality standards that protect public health and welfare.
---
Blazing Maples
Here's a little-known fact: The world's largest sugar maple evaluation trial is taking place right here in Alabama. Now in its third year at the AAES's North Alabama Horticulture Research Center in Cullman, the project aims to identify sugar maple cultivars that will thrive and produce throughout Alabama the same spectacular fall colors normally seen only in cooler climates.
Several of the 22 different cultivars CoAg associate professor of horticulture Jeff Sibley is studying are showing strong potential and could be available to Alabama homeowners and landscapers as early as next fall.
---
Grassroots Connections
An AAES research project to identify and open channels of communication between all citizen action groups that have formed throughout the state out of concern for natural resource and environmental issues has resulted in the development of a comprehensive online directory, the Alabama Grassroots Clearinghouse.
From Airport Neighbors United to Wiregrass Leadership Institute, the directory lists the 175 groups alphabetically, both statewide and by county, and offers numerous links. You can find the site at www.ag.auburn.edu/grassroots.
---
Viewing Cells in Real Time
Vitaly Vodyanoy of the AU College of Veterinary Medicine has developed an ultra-high-resolution, dark field optical microscope that has resolution four to five times higher than the best presently available optical microscopes. It allows the observation of living cells in extremely fine detail and in real time. The samples need no freezing, dehydration, staining, shadowing, marking or any other manipulation.
For nearly 10 years, Vodyanoy has used the microscope to support his research efforts. He designed and built the patented microscope to his own specifications because no other microscope could meet his research needs.
Auburn University is working with AETOS Technologies Inc., a new Auburn-based firm, to commercialize and market the device and other technologies. AU owns a 45-percent share in the company, but up to 60 percent of the revenues generated will flow back to the institution. It is a venture that university officials estimate could bring $108 million to AU by 2010.
---
Promoting Energy-efficient Farming
Eight grants to fund projects ranging from converting waste into fuel for heating to using global positioning system devices to improve farm production and reduce costs have been awarded by the Alabama Department of Economic and Community Affairs. These grants involve research and extension personnel in the AAES and the Alabama Cooperative Extension System.
Awarded were:
A $50,000 grant to demonstrate the advantages of using automated aeration controls to provide oxygen in catfish ponds (Bill Daniels and Jesse Chappell, fisheries and allied aquacultures)
Three grants totaling $149,966 to demonstrate the usefulness of biofuel pellets, biomass gases and vapors and recycled vegetable oil as an economical fuel source for heating chicken houses and greenhouses (Oladiran Fasina and Tim McDonald, biosystems engineering, and David Bransby, agronomy and soils)
A $45,250 grant for a demonstration on time saving and fuel efficiency through use of global positioning devices which attach to tractors and mobile farm machinery and reduce overlap on fields and provide more efficient and effective applications of fertilizers and agricultural chemicals (Paul Mask, Shannon Norwood and Mark Hall, Extension)
A $50,000 grant to demonstrate an energy-efficient method of drying and storing grain (Ed Sikora, plant pathology)
4A $6,635 grant to demonstrate the benefits of minimal tilling of grain fields (Leonard Kuykendall, Extension).
---
The Great Smoggy Mountains?
Those scenic mountain views just ain't what they used to be in the Great Smoky Mountains National Park, and ground-level ozone is the culprit.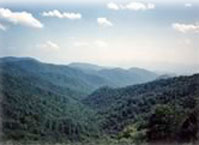 The haze in the Great Smokey Mountains is ground-level ozone.
Visibility isn't all that is suffering from the pollution, either. Research by AU forest biology professor Art Chappelka in the School of Forestry and Wildlife Sciences and others has shown that ground-level ozone is seriously damaging dozens of native plant species in the Smokies.
Now, Chappelka's team is focusing on trees–specifically, on how ozone impacts tree growth and health and, ultimately, forest productivity over time. And since air pollution doesn't stop at the state lines, Chappelka's findings are and will continue to be just as applicable to Alabama forests as they are to the Smokies.
The EPA is drawing from Chappelka's data now as it works to draft court-ordered air-quality standards for the U.S. national park system.