The following information offers updates on the CoAg teaching program and student activities. For more information on these stories or on educational opportunities in the College, contact Bill Alverson, assistant dean, or Bill Hardy, associate dean, at 334-844-2345 or visit the CoAg Web site at http://www.ag.auburn.edu/.
The Road to Professional School Runs Right Through the College of Agriculture
By: Bill Hardy

Many CoAg undergraduates know that their bachelor of science degree will not be the final stop in their educational attainment. A significant number continue their educational pursuits to obtain the master's degree, and some continue on to receive their doctorate degrees. The sound academic foundation that our CoAg students receive also prepares them for admission to many different types of professional schools.
Three CoAg departments (animal sciences, fisheries and allied aquacultures and poultry science) have curriculum tracks that are specifically designed for those who want to receive additional training in the medical area. Most of the students who are enrolled in these programs of study intend to go on to veterinary school; however, others may choose to go to medical, pharmacy, nursing or physical therapy school. The heavy emphasis on the sciences that is required by these curricula provides a sound foundation for any of these advanced areas of study.
It is well known that the AU College of Veterinary Medicine is one of the best in the country. Because of this, many students come to Auburn for their undergraduate studies to help with their acceptance for the study of veterinary medicine. Recent history has shown that students who complete their undergraduate studies in our College stand a very good chance of acceptance (approximately 40 percent acceptance rate) and an even better opportunity to do very well in their studies. For the past year, 43 percent of the in-state entering class for the AU College of Veterinary Medicine came from the College of Agriculture. The remaining students came from other programs on campus and all other universities. In addition, some of the "at-large" students (those from outside Alabama and Kentucky) came from undergraduate programs in our College.
Other types of professional education and associated degrees that are pursued by some of our graduates are the master of business administration (MBA) and the juris doctorate (law degree). The basic areas of study provided by our programs (particularly in agricultural economics) provide a sound foundation for the MBA and law degrees. The practical applied orientation of our programs fits very well with these professional studies. For example, in law school a student will study contracts, business enterprises, environmental law, tax law and property law. Because agricultural economics graduates have exposure to these topics in their undergraduate studies, they have an advantage over those who have a more traditional pre-law programs in history or political science.
In short, the College is a great place to start on the path of professional careers in a wide range of fields.
---
The Most Recent Class
Ever wonder about the details of each graduating CoAg class? Here are some details from the class that "walked" (matriculated) in December 2003.
A total of 45 CoAg students completed their studies and graduated fall semester 2003. Twenty-five of these students majored in horticulture, six in animal sciences, five in agricultural economics and rural sociology, four in agronomy and four in poultry science.
A review of the exit evaluations completed by these students revealed that they were very pleased with the education they received in the College and from their selected disciplines. On a scale from 0 to 10 (with 0 representing "would not recommend" and 10 "recommend very strongly") the weighted average was 9.1 for the question "How strongly would you recommend the College of Agriculture to a potential student?" The weighted average was 8.8 on the related question of "How strongly would you recommend majoring in your degree discipline to a potential student?"
As is typical for students who graduate in December, the job market is somewhat tight. Fifty-three percent of those who graduated last semester had not yet secured full-time employment; however, several of these students indicated that they had possibilities that they were considering. Twenty percent had already accepted full-time employment and 27 percent were remaining in school for advanced study (either graduate or professional school).
---
CoAg Well Represented at 2003 Sunbelt Ag Expo
The College of Agriculture was well represented at the 26th Annual Sunbelt Agricultural Exposition (EXPO) held last October in Moultrie, Ga. Known as "North America's Premier Farm Show," EXPO had one of the most successful years in its history with nearly 1,200 exhibitors displaying products and services related to the agricultural industry. The weather was perfect and record crowds came from throughout the Southeast to see all that the exhibitors had to offer.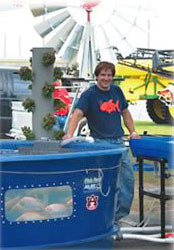 At the 2003 Ag Expo, David Cline demonstratd how fish can be grown in a temperature-controlled year-round environment.
Since the construction of its permanent building on the EXPO grounds three years ago, the AU College of Agriculture has become an even more prominent and permanent fixture at the EXPO. The attractive building with its bold AU emblems on the sides and Auburn flag flying high reminds visitors that CoAg is a leader in agricultural teaching, research and extension.
According to Bill Hardy, associate dean for teaching, the College's exhibits were some of the best at EXPO. All eight CoAg departments were represented, displaying examples of academic programs, research activities and extension initiatives. A highlight of the AU exhibit and of the EXPO was presented by the Department of Fisheries and Allied Aquacultures. This exhibit, which was put in place by Jesse Chappell and David Cline, demonstrated how fish can be grown in a temperature-controlled year-round environment. In addition, the exhibit showed how nutrients generated in the water by the fish can be used to fertilize plants, thus providing a self-contained fish farm and hydroponics system. The research-type facility clearly illustrated possibilities that are available for innovative farming operations.
Other exhibits included the continuously popular fire ant-eating phorid flies that were demonstrated by Research Fellow Fudd Graham and Research Assistant Vicky Bertagnolli, both from the Department of Entomology and Plant Pathology. A discussion of the growth and marketing of satsuma oranges was presented by Ben Campbell, a graduate student in the Department of Agricultural Economics and Rural Sociology. Agricultural Program Assistant Kirk Iverson from the Department of Agronomy and Soils displayed different types of turf and demonstrated the characteristics of each. The Department of Horticulture exhibit, developed by Academic Program Specialist Cynthia Channel-Butcher, illustrated all areas of study available in that curriculum and other options available at Auburn University.
The Department of Animal Sciences exhibit, developed by Professors Frank Owlsey and Bill Jones, emphasized changes in their undergraduate program to meet today's needs. In addition, cooked pork samples were provided to demonstrate the impact of production methods on consumer acceptance of meat products. Professor Joe Hess developed the Poultry Science exhibit, which helped visitors identify the different parts of a chicken anatomy. In addition, information was provided about employment options available for poultry science graduates.
The exhibit presented by the Department of Biosystems Engineering under the coordination of Assistant Professor Oladiran Fasina was also very popular with those who visited the CoAg building. This exhibit served to generate significant interest from many potential students. Jonathan Melton, a senior in biosystems engineering, demonstrated a quarter-scale, pulling tractor that students from the department built for national competition. Along with generating interest at the CoAg building, Melton and the tractor attracted attention as they led the antique tractor parade throughout the EXPO site.
Representatives from the Dean's office (Associate Dean Bill Hardy and Assistant Dean Bill Alverson) and several Ag Ambassadors were on hand throughout the three-day show to interact with potential students and to help ensure that all who were interested received information relative to all available CoAg academic programs.
Visitors to the CoAg building were also treated to high-quality entertainment including 12 members of the Auburn University Singers and the Enterprise High School FFA String Band and Quartet.
Mark Oct. 19-21, 2004, on your calendar to join the College for the 27th Sunbelt Agricultural Exposition.
---
Student Awards and Recognitions
Several students in the College of Agriculture were recognized during fall semester because of their outstanding academic accomplishments.
Nicole Makowsky, a pre-veterinary major from Montgomery, Ala., was selected to be the student graduation marshal for fall graduation (December 2003). With this honor, Makowsky led the CoAg processional at graduation and was recognized individually for this honor and for completing her undergraduate studies with a perfect 4.0 grade point average. In addition to graduating from the College in December, Makowsky also completed her first semester in the Auburn University College of Veterinary Medicine. As an undergraduate, Nicole was a member of the Pre-Vet Club, Block and Bridle, Chi Alpha and served as an Honor's College Mentor.
Five CoAg students were recognized during fall semester for their outstanding academic accomplishments through induction into Phi Kappa Phi. Phi Kappa Phi recognizes outstanding scholarship with membership by invitation only to the top 5 percent of the graduating class. Students in the junior class may be invited to membership if they have a minimum overall grade point average of 3.795.
Graduating CoAg seniors who were selected were Jenny Childers, Andy Leslie and Bill Miller. Childers is from Birmingham, Ala., and majored in horticulture. Leslie majored in poultry science and is a native of Langston, Ala. He also received a minor in business. Miller came to Auburn from Fayetteville, N.C., and graduated in horticulture with a minor in agronomy.
The outstanding academic accomplishments of two juniors permitted their induction into Phi Kappa Phi. They were Karen Burks and Sara Choquette. Both students are animal sciences-pre vet majors. Burks is from Fairhope, Ala. and Choquette is from Anniston, Ala.
The exceptional academic accomplishments during the past academic year of Nick Patterson, a sophomore in animal sciences-pre vet from Florence, Ala., prompted Phi Kappa Phi to recognize him as one of the University's Outstanding Freshmen.
Several CoAg students also were recognized through selection for membership in Gamma Sigma Delta–The Honor Society of Agriculture. Graduating seniors selected were Nikolaus Mahrt (animal sciences), Bill Miller (horticulture), Clint Tyus (horticulture) and Ray Willet (horticulture).
---
College of Agriculture to Host NAADA 2004 Conference
Visitors from agricultural colleges across the United States will be in Mobile, Ala., June 13-16 when AU's College of Agriculture hosts the 2004 National Agricultural Alumni and Development Association (NAADA) national conference.
NAADA is composed of representatives who advance agriculture through serving alumni, development and student professionals by expanding the human and financial resource bases of the nation's agricultural colleges.
"This is the first time Auburn University has served as the host institution since NAADA was organized in 1976," says John Jensen, interim CoAg dean. "We look forward to the more than 200 representatives who will be attending from across the United States to improve their professional duties and at the same time learn about Alabama agriculture and Auburn University."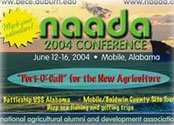 An estimated 200 representative from across the United States will be attending the NAADA Conference in Mobile, Ala.
The conference will include educational sessions for professionals and students, guest speakers and four agricultural tours.
Among the tours will be a visit to the Alabama State Docks to view its export of agricultural products from Alabama and the Southeast and to learn about its bio-security measures. Another tour will focus on ecological research related to the Mobile Bay area and will include stops at the new Auburn University Shellfish Laboratory, the Dauphin Island Estuarium and Sea Lab and the Alma Bryant High School Aquaculture Program. A third tour will visit Flowerwood Research Farm and Weeks Bay in Baldwin County. The fourth tour will offer a behind-the-scenes exploration of Bellingrath Gardens and will be directed by Bill Barrick, executive director of Bellingrath Gardens and a CoAg alumnus.
During the meeting, student agricultural ambassadors from several universities will participate in seminars on leadership and confidence-building as well as a tour of agriculture and aquaculture sites in Baldwin County. Elisabeth Opt'Holt, president of the AU Agricultural Ambassadors, is spearheading the student program.
A highlight of the conference will be a seafood feast and entertainment on the deck of the battleship USS Alabama, which is docked in Mobile Bay, on June 15. Auburn Agriculture alumni will be invited to attend that feast and help welcome the NAADA visitors to Alabama. For more information call the College of Agriculture at 334-844-2345.
---
First Ag Communications Scholarship to be Awarded Fall 2004
The Gene Stevenson and Joe Yeager Scholarship in Agricultural Communications has been endowed with funds from the sale of Inside Ag Hill, a history of agriculture at Auburn. The scholarship is the first offered specifically to students majoring in agricultural communications and will be awarded beginning the fall semester of 2004.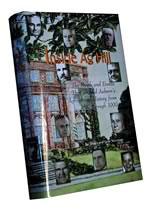 Two-for-One Sale
"It's important to do everything we can to get our young people interested in writing and reporting about agriculture," says Yeager, co-author of the book and retired head of AU's agricultural economics and rural sociology department. "The general public doesn't realize the importance of agriculture and what goes on between the farm gate and the consumer. We need to get that message out."
Inside Ag Hill, written by Stevenson and Yeager, has been praised by reviewers for its intriguing stories and engaging narrative style, its candid discussions of controversial and sometimes divisive moments in Ag Hill's history and for its focus on the personal stories of Ag Hill's founders.
"The book focuses on people," comments Stevenson, editor emeritus of what once was the Alabama Agricultural Experiment Station's (AAES's) department of Research Information (now Ag Communications and Marketing). "People made Ag Hill what it is, so we tried to cover a lot of them and that's the thing that people who read our book notice."
Stevenson grew up on a farm in Harvest, Ala., and came to school at Auburn in 1947. He was bitten by the Auburn bug and has spent most of his adult life in the town. After completing a self-designed degree in agricultural journalism, he went to work for Farm and Ranch Magazine in Nashville, Tenn., and then was called into active duty with the U.S. Navy during the Korean Conflict. Stevenson returned to Auburn in 1955 as an assistant editor with Research Information (then known as the Publications Department). He became the department's head and editor in 1982, and was also an assistant director of the AAES from 1990 until he retired in 1991.
Yeager, a Cullman County farm boy, came to Auburn in 1939 as a student and immediately fell in love with the town and the college. Except for a stint in the military (U.S. Army) and time away working on his Ph.D. at Purdue University, Yeager spent his entire adult life in Auburn. He joined the faculty of AU's Department of Agricultural Economics and Rural Sociology as an assistant professor in 1951 and worked his way quickly through the ranks to become professor and soon department head, positions he held from 1964 until he retired in 1991.
The two began researching Inside Ag Hill in 1997 at the request of Jim Marion, who was then CoAg dean and director of the AAES. They scrutinized thousands of documents and conducted scores of interviews to gather the information contained between the covers of Inside Ag Hill.
Though Yeager and Stevenson consider themselves more storytellers than historians, the book was meticulously researched and documented and is considered the most complete history of Ag Hill ever written. Funds from future sales of the book will go towards Ag Heritage Park–a site on the AU campus devoted to the past, present and future of AU's agricultural program.