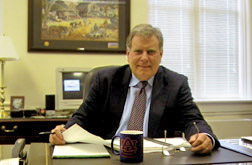 John Jensen
About one year ago we began an effort to increase state appropriations to the Alabama Agricultural Experiment Station (AAES) and Alabama Cooperative Extension System (ACES). The strategy we selected included the following objectives:
Play to our strengths and prioritize
Deliver targeted, narrowly defined activities that lead to economic development and jobs
Regionalize our initiatives so that they are most relevant and important to the citizens of the region
Deliver significant results in three to five years
To start, Dr. Richard Guthrie, Dr. Jim Bannon, and Ms. Katie Smith Jackson developed preliminary statements and titles for the regional initiatives that were linked to our six research and extension centers (RECs). Facilitated meetings were held with our Dean's Council on Agriculture and with our faculty to review the drafted initiatives, refine them and brainstorm about other potential ideas.
Armed with a list of potential initiatives, the leadership of the College, the AAES and the ACES went on the road in January to hold facilitated public listening sessions at each of the RECs to verify that these ideas could qualify as initiatives while brainstorming with the citizens in search of additional ideas.
Following the sessions we developed white papers for each initiative. About that time Interim AU President Ed Richardson called on Dr. Gaines Smith, Extension director, and me to present to him potential initiatives that could be presented to key legislators for possible state funding.
Two were selected-"Fishing for Jobs: Developing New Aquaculture and Business Opportunities in West Alabama," which will seek to develop inland marine aquaculture and value-added fish product development opportunities in Alabama's Black Belt Region, and "Agricultural Systems and the Environment: Products and Jobs from Poultry Waste," which addresses the problem of handling poultry waste in northeast Alabama and is aimed at developing new value-added products that will lead to economic development opportunities and jobs.
The news is good for the first year of our process; each initiative was funded for $350,000, to be split equally between AAES and ACES. I would personally like to thank all of you who participated in this legislative effort, including the legislators who trust us with the taxpayers' precious dollars. The process was grueling, but the payoff was significant considering the limited resources that our lawmakers have to work with.
While teams of scientists are beginning their work to make these two initiatives pay off, we are beginning to develop our strategy for the next legislative session. In addition to the need to fully fund our first two initiatives, we already have 15 new initiatives that can be marketed to our Alabama Legislature and U.S. Congress or to private companies and foundations.
As a side note, one thing we heard loud and clear from those attending our listening sessions was that our Web pages for the College, AAES and ACES did not meet your expectations. We are beginning the process to correct that situation and will be reporting to you soon about our progress to make our Web pages as user-friendly and as useful as possible.
It's turning into another great year for our College and for me personally. Hope the rains have been on time and in just the right amounts for you, too.
–John Jensen, Interim Dean and Director