In Our Opinion. Extension System specialists have been voicing their opinions in the state's newspapers during recent months, which is helping increase awareness of issues and also Extension programs and projects. The following is an opinion piece that ran recently in several Alabama papers.
Mend, Don't End, Farm Payments
By: Robert Goodman and James Novak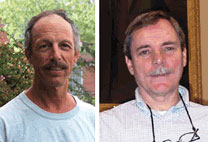 Robert Goodman and James Novak
A story is told about the late Wilhelm Röpke, an economist whose thinking greatly influenced West Germany's economic rebirth following World War II.
Exiled from Nazi Germany and living in Switzerland during the war, Röpke invited free-market economist Ludwig von Mises, his friend and mentor, for a visit to his home near Geneva.
While inspecting a series of garden plots set aside by the city for residents to grow their own food, Mises reportedly scoffed, "A very inefficient way to produce food!" Röpke countered, "Perhaps, but a very efficient way to produce happiness."
The story, whether true or not, teaches a lesson. Free markets provide a lot of the things we associate with happiness, but not everything. Sometimes a marriage is needed between government and the market to accomplish things that markets alone are not equipped to do.
Farm program payments are one example.
For more than 70 years, farm payments, despite their shortcomings, have produced a substantial amount of happiness not only for farmers but for the hundreds of millions of Americans whose livelihoods depend on farming-which includes just about everybody.
Historically, the purpose of these payments has been to safeguard the financial security of family farms. In the process, it has also preserved rural communities and provided consumers with the cheapest food supply in the world.
One of the most frequent criticisms of farm payments is that they benefit only rich farmers. That simply isn't true, according to data collected on member farms by the Alabama Farm Analysis Association from 1997 until 2002.
In 1999, government payments contributed almost 13 percent of the gross income of farmers earning less than $20,000 in sales. Without these payments, 1997 would have been the only year Alabama grain and cotton farmers earned positive net incomes. The same goes for cow-calf producers.
As a whole, member farmers would have posted positive net incomes in only three of those years.
Other sectors of the rural economy are also directly affected by farming and, likewise, by farm payments.
It's a plain fact that the rural economy is collapsing in parts of Alabama and in other regions of the United States, most notably the Great Plains states. Data compiled by Auburn University's Economic Development Institute paint an especially grim picture of rural Alabama's plight. Forty-five of Alabama's rural counties experienced population growth below the state average. Alabama counties contending with double-digit unemployment rates are all rural. The same holds true for the 20 counties with the lowest mean family income. Yet, as bad as things are, they would be far worse without farm payments.
By extending a lifeline to family farms, payments also underpin other rural businesses-restaurants, farm equipment dealers, insurance agencies and banks. A small-town cotton gin that employs only a handful of workers may not seem like much to many urban dwellers, but its profitability could mean the difference between survival and extinction of a small farming community. Farm payments have enabled many of these small businesses to hang on, if only with their fingernails.
Throughout their history, farm payments have also promoted innovation and this, in turn, benefits consumers. Farm-related companies are willing to go out on a limb to develop new farming technologies because they know payments ensure there will be enough farmers in the business to buy their products. Enhanced efficiency often results in lower operating costs that, in turn, mean cheaper commodity prices for consumers.
Critics of farm payments wonder why other sectors of the economy aren't subsidized the same way farmers are. Actually, many of them are, if only in a more roundabout way.
The trillion-dollar investment in the U.S. highway system compliments of federal and state governments-a subsidy by any other name-has been a tremendous boon to the nation's automakers. Just imagine where we would be without this system-undoubtedly passing a lot more of our day commuting to and from work on trains and other forms of public transit.
Speaking of subsidies, we're sitting on one. Public universities, supported by state and federal tax money and, to an increasingly significant degree, private foundation grants, are one of America's most noteworthy examples of a successful private sector/government partnership. For almost two centuries, these institutions have provided the private sector with millions of highly skilled workers, educated largely at state and federal taxpayers' expense-yet again, a subsidy.
Critics also allege that too much emphasis is placed on supporting large-scale farmers at the expense of small-scale farmers-a legitimate complaint. But times, they are a changin'. Policymakers are striving to improve farm payments in ways that redress these imbalances while providing more financial incentives for farmers to preserve and increase the fertility of cropland through sound conservation practices.
Are farm payments perfect? No. Still, the best way to serve farmers and other rural Americans-not to mention, consumers-is by mending them, not ending them.
Goodman is an Alabama Cooperative Extension System economist and CoAg associate professor of agricultural economics. Novak is an Alabama Cooperative Extension System economist and CoAg professor of agricultural economics.
---
CoAg Expert Monitoring State for Serious Beetle Infestation
It's hard, tedious and largely thankless work, but somebody's got to do it.
That somebody happens to be Wayne Brewer, an Alabama Cooperative Extension System entomologist and CoAg professor of entomology who, for several years, has been monitoring much of the state for signs of the gypsy moth, a devastating forest pest that has wreaked havoc in other regions of the country.
Recently, his job became more challenging after he obtained a grant from the U.S. Department of Agriculture's Animal and Plant Health Inspection Service to survey for signs of the emerald ash borer.
He doesn't seem to mind the extra work, though. Having seen the damage these beetles have caused in other parts of the country, he is a firm believer in the old maxim that an ounce of prevention is worth a pound of cure.
By every measure, the emerald ash borer is a pest worth watching-and preventing. A native of China, the beetle can easily fit on the surface of a penny. It was first identified feeding on ash trees in southeastern Michigan in 2002. Experts believe it had eluded detection for as long as five years-not surprising considering the symptoms often pass unnoticed. The borer also has been detected in Ontario, Maryland and a small section of northwest Ohio.
The most obvious symptom of the borer's presence is yellowing or dying foliage, which may take months to occur. Another telltale sign is the tiny D-shaped exit hole left by emerging adult beetles on the branches and trunks of ash trees. Vertical splits in the tree bark caused by callused tissue that forms around larval feeding galleries are also evidence of the beetle's presence, Brewer says.
Infested trees often lose 30 to 50 percent of their canopy in only one year and die between two and three years of infestation.
Michigan State University researchers are searching for a method to control the borers, but what they've come up with so far is only 90 percent effective. That's not good enough, experts say, because there's always the chance enough borers will escape to infest other trees.
In the case of forest pests, there is more to consider than just environmental and aesthetic issue, Brewer notes. Often overlooked is the issue of human safety.
"In an urban setting, a dead tree is not only unsightly but dangerous. Just imagine the trouble that would ensue if someone were injured or even killed by a falling tree," he says.
Brewer hopes to work closely with Extension agents and others throughout the state to closely monitor trees for symptoms as he did with gypsy moths.
Problems associated with imported pests such as gypsy moth and emerald ash borer are likely to get worse in the next few years-factors Brewer attributes to increased travel often associated with more international trade.
"There's no question that the biggest aid to insect movement is humans," he says. "The advent of modern travel makes it much easier for insects to travel from one continent to another. It's one of the costs of progress."
---
Elmore Named Alabama BCIA Outstanding County Agent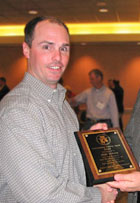 Josh Elmore
Josh Elmore was named 2003 Outstanding County Agent by the Alabama Beef Cattle Improvement Association (BCIA).

Elmore, who now lives in Clanton, Ala., served as the Alabama Cooperative Extension System county agent for Mobile and Baldwin counties from September 1999 to May 2003.
After serving as county agent, Elmore was transferred to serve as the coordinator of Extension's Alabama Beef Connection (ABC) program. Elmore also assists with the Alabama BCIA Southwest Alabama Heifer Sale and promotes and participates in the Alabama Pasture-to-Rail program.
---
Termites Challenging State's Pest Control Operators
Nobody wants roaches in the house or fire ants in the yard, but termites are the pests generating the most business for the state's pest control businesses these days.
More than 90 percent of pest control operators at a recent meeting said termite control was the predominant service they provided.
"More than half of those surveyed said termite control was also the fastest-growing portion of their business," says Xing Ping Hu , an urban entomologist with the Alabama Cooperative Extension System and an associate professor in CoAg's Department of Entomology and Plant Pathology.
She explains that termite control is a double-edged sword for most pest control operations.
"It is the most important segment of the industry in terms of income. Approximately 65 percent of survey respondents identified termite control as the most profitable service they offered," says Hu, whose work focuses on controlling termites and other pests associated with home environments. "But it is also identified as the service that entailed the greatest liability."
More than three-quarters of those surveyed ranked termite control highest both in terms of expense and difficulty in treatment. Other pests ranked far below termites.
Pest control operations face a number of challenges is battling termites.
"It is vital they select appropriate control technologies to deal with termites because of the difficulty of treatment, extensive liability and changing governmental and environmental regulations," says Hu.
In order to maintain their commercial pesticide applicator licenses, employees of pest control businesses must attend continuing education programs.
"More than 90 percent of those surveyed indicated that Extension's urban entomology program was their most important, and in many cases sole, source of information and training," she says.
---
4-H Judging Camp Builds Life Skills
More than 40 4-H members from 11 counties honed their critical thinking and public speaking skills this past spring at the Second Annual Alabama 4-H Youth Livestock Judging Camp in Cullman.
The camp, held March 30 through April 1 at the Cullman County Fairgrounds, was an intensive course in livestock judging. Eight classes of cattle and hogs were evaluated as part of the camp.
A team of Extension agents, including Danny Cain from Walker County, Gerry Thompson from Limestone County, and Mack Washington from Lamar County coordinated this year's camp.
Participants were from Autauga, Cullman, Elmore, Lamar, Lauderdale, Madison, Randolph, St. Clair, Tuscaloosa, Walker and Winston counties. In 2003, two camps were held in Cullman, and about 60 4-H'ers participated.
---
Beef Industry Leader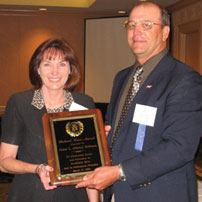 Jimmie Holliman and his wife, Kathleen, of Circle H Cattle Farm in Marion Junction, Ala., display the Richard Deese Award that the Alabama Beef Cattle Improvement Association (BCIA) presented to Holliman at its 40th Annual Meeting and Awards Banquet held this past spring in Birmingham. The award, which is the organization's most prestigious, is presented to individuals who exhibit outstanding dedication to Alabama BCIA and its performance principles.
In May, Holliman, who also works as superintendent of the Black Belt Research and Extension Center in Marion Junction, earned yet another honor when he was elected president of the Beef Improvement Federation (BIF), an organization responsible for setting the standards and guidelines for measuring genetic improvement in beef cattle worldwide.