These stories offer the latest news on CoAg alumni and development efforts. For more information on the AU Agricultural Alumni Association or Agricultural Heritage Park, contact Robert Hensarling, director for Ag Heritage Park/Alumni Relations, at 334-844-3596. For more information on development opportunities and news, contact CoAg Development Directors Chris Gary (334-844-1136; garychr@auburn.edu ), Mark Wilton (334-844-1198; wiltomt@auburn.edu ) or Development Coordinator Katie Hardy (334-844-1475; hardykc@auburn.edu ).
---
Presidential Ponderings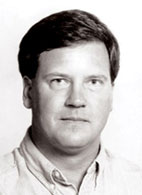 On May 14, I had the great fortune to present 16 new life member certificates from the AU Ag Alumni Association to some of CoAg's graduating seniors. As I scanned the many seniors present, I was elated to see the quality of young women and men that were educated, molded and formed into outstanding individuals by the staff and administration of our college. Though they cannot take all the credit, much should be given to them for their efforts and concerns as they assist in preparing these young people to become successful professionals.
One of the College's professors commented that he cannot remember seeing our college functioning in a more professional and efficient manner, in which the CoAg staff, administration and Auburn University's administration all appear to be working together in the same direction for the same cause. The College of Agriculture is second to none at Auburn and envied by most. I had a student tell me that the students of the College of Ag walk the campus with a swagger. They walk with pride and confidence. He said they were envied by most students because they actually know their teachers' and advisers' names. This is truly what makes our College great.
Your Association's support for the College is vital to its continued success. We have given close to $20,000 in scholarships, assisted in the recruitment of quality students and we have provided opportunities for graduates to renew and develop friendships that will continue throughout a lifetime. We have listened to department heads' concerns and needs and assisted the college in delivering their message and accomplishments to the public and to our elected officials.
We invite you to become a member of the AU Ag Alumni Association if you are not currently a member. Help us to make our College and University greater than it is today. Our organization walks with a swagger, as it should.
War Eagle, and I hope to see each of you soon.
Respectfully yours,
Tim R. Wood, Ag Alumni President
---
For Exhibitors, Ag Roundup Is Marketing Paradise
By: Jamie Creamer
Charlie Thompson offers a taste of lamb.
For Charlie Thompson, homecoming Saturday on the rolling Plains of Dixie isn't about football. It's about lamb, and serving up sample after sample of mouthwatering smoked shoulder to the hundreds of folks who visit his booth during the AU College of Agriculture's annual Fall Roundup and Taste of Alabama Agriculture.
Thompson and his wife, Cynthia, who have 100 head of sheep on their farm in Lauderdale County, have been participating as vendors at Ag Roundup for a good 10 years, representing Alabama sheep producers and the American Sheep Industry Association. And barring some unforeseen circumstance, they'll be here again this coming Oct. 9 for Ag Roundup 2004.
Through the years, first when the Roundup/Taste was held on Ag Hill and in its past three years on the grounds of Ag Heritage Park, Thompson estimates he has introduced thousands of lamb-leery Auburn faithful to the sweet, tender and mild flavor of properly prepared fresh lamb. It's for that very reason that Thompson wouldn't miss Ag Roundup for the world.
"The atmosphere's great at Ag Round-up," Thompson says. "All the folks are in a good mood and they all sort of have the attitude that they're going to sample a little bit of everything, especially foods they aren't that familiar with, so you've got an open-minded audience right there."
And if Ag Roundup lamb samplers have any questions at all, whether about lamb's nutritional value or where to find it or how to cook it, all they have to do is ask, and Thompson is ready with the answers and with his sales pitch.
Thompson's booth is always in a prime location at the ag tailgating extravaganza, usually one of the first you come to when you walk through the gates at Ag Heritage Park. For his purposes, he says, that location is perfect.
"It's real important that folks be able to experience the full taste of lamb, so we want it to be the first thing people taste, before they've got so many other samples and flavors in their heads," Thompson says. "That first impression is what's important."
If the setup at this year's Roundup is similar to ones in the past, the booth to Thompson's left will be manned by Jim Cassidy, who'll be giving away flavorful samples of goat sausage faster than he can slice them.
Cassidy-whose goal at the AU homecoming event, like Thompson's, is product promotion-gives away about 50 pounds of goat sausage every year at Ag Roundup. Many of his "clients" are visitors from previous years who search him out for some more of that awesome goat sausage. Among the first-time samplers, though, Cassidy says he gets a kick out of watching their expressions as they taste it.
"They go from being apprehensive to saying, 'Wow! This is great! I had no idea goat meat was so good!'" says Cassidy, who has a herd of about 40 goats at his place in Butler County and who, along with Thompson, is a member of the Alabama Farmers Federation's State Meat Goat and Sheep Committee. "Ag Roundup gives us the opportunity to change a lot of minds."
And that's a large part of what the CoAg Fall Roundup/Taste of Alabama Agriculture is all about-that, and making the public more aware of the wide range of food crops produced right here in Alabama. In addition to smoked lamb and goat sausage, the 25th annual Roundup on Oct. 9 will feature a wide range of Alabama-grown and/or -processed foods, including fried catfish, ice cream, fried sweet potatoes, chicken, beef, fried soybeans, turnip greens, hot cornbread, kiwifruit, satsuma oranges, grilled burgers, corndogs, pecans and hot boiled peanuts.
The event will start at 9 a.m. and run until one hour before kickoff of AU's homecoming game against Louisiana Tech. Admission is free for active Ag Alumni Association members and for children 6 and under. Non-members can purchase tickets at the gate for $5.
On-site parking for Roundup and Taste of Alabama will be limited this year due to construction underway at Ag Heritage Park and the space needed for vendors. Those attending the event should seek parking options elsewhere on campus. Information about game-day parking options is available at www.auburn.edu/communications_marketing/gameday03/faq.html or by calling 334-844-4158.
For more information on Taste of Alabama and Roundup, contact Elaine Rollo at 334-844-3204 (rollome@auburn.edu).
---
Progress Continues at Ag Heritage Park
By: Robert Hensarling
Ponds, pavilions, parties and so much more are on the agenda for this summer and fall at Ag Heritage Park.
Ag Heritage Park is located on Samford Avenue on the Auburn campus and is designed to celebrate the past, present and future of Alabama agriculture. It has been under development for several years. When complete, the park will pay tribute to Alabama's farmers and agricultural sector while also serving as a gathering place for CoAg and all AU students, faculty, alumni and friends throughout the year.
Though the park has already become a destination-of-choice for many CoAg alumni, friends, faculty and staff during tailgate parties and other events, its grand design is an ongoing project that will take several years to complete. We are pleased that a great deal of progress has been made in recent months.
We began the initial phase of the Ag Heritage Park Demonstration Pond construction during the first week of May. Working in concert with Auburn University's Facilities Management group, AAES's Research Operations division excavated more than 3,000 cubic yards of soil. This first phase consists of installing more than 1,500 feet of new sanitary sewer lines necessary to clear the area for the pond construction. The next phase is the construction of the pond dam. Weather and time schedules permitting, we should see significant progress on the pond by the end of September.
Ground was also broken on the ALFA Alabama Farmers Pavilion in July, with a notice to proceed with construction expected in late August or early September. After the bids for construction are accepted, the project should be on schedule to be completed by late December 2004 or early January 2005.
Schematic designs for the replication of the Red Barn were presented to the AU Board of Trustees in June. The Red Barn should be ready for bid documents in late November 2004 with the construction phase following in late February or early March 2005. Again, with the right conditions, the Red Barn should be complete early June 2005. A groundbreaking ceremony is planned for this fall.
The Herdsman's House renovation project is now in the design and development stage. The existing kitchen and restroom will be renovated to update the structure and to make it more accessible by the disabled. This project should be completed by the first 2004 football game and will be a wonderful addition to the park.
Plans for 2004 tailgate parties are underway. The tailgating policies are available www.auburnagheritagepark.org along with our 2004 game-day procedures.
---
A Classic Tourney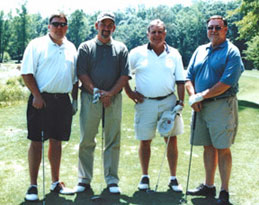 Interim CoAg Dean John Jensen, second from right, played one hole at Moore's Mill Golf Club in Auburn with all of the record 34 teams in the Ag Alumni Association's 2004 Ag Classic Golf Tournament in May. He poses here with the tourney's top golfers, from the left, Jarod Grace, Casey Jones and Richard Taylor.
---
Alumni Updates
April A. Helm Archer married Robert Gregory Archer on March 2003 in Mobile, Ala., and accepted a job in January with Cargill Meat Solutions with Research and Development in Wichita, Kan., where she and Robert now reside. Archer received her bachelor's degree at Auburn in animal sciences in 2000 and her master's degree in meat sciences in 2003.
---
Mark Your Calendar for an Ag Hill Calendar!
For the first time in recent history, the College of Agriculture will have its own calendar-a 12-month compendium of dates and details of interest to CoAg students, faculty, alumni and friends. The calendar, which will feature the faces and places of Ag Hill, will be on sale in October at Ag Roundup. Be on the lookout for sales information this fall. All proceeds from the calendar sales will go toward the new farmers' market, which is being developed at Ag Heritage Park.