AAES School and College News
The following is news from our AAES-affiliated schools and colleges. For more information on the teaching, research, outreach or development activities of any of these academic units, contact them directly at their respective phone numbers or Web sites.
---
---
White Named New Nutrition and Food Science Department Head
Doug White, a highly respected Auburn researcher and teacher, has been named the new head of the Auburn University Department of Nutrition and Food Science.
A native of Huntsville, Ala., White spent his freshman year of college in Oklahoma, then came to Auburn to complete his undergraduate work. He majored in chemistry, but became enamored with physiology during his senior year.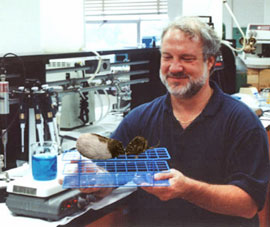 Doug White laboratory mice. (Photo illustration by Terry Rodriguez)
He went on to earn a master's degree in physiology at Auburn, working on issues of endocrinology and stress, then headed to Louisiana State University Medical Center in New Orleans to earn his Ph.D., also in physiology. It was there that he shifted his research focus from stress to obesity. Working with obese Zucker rats-laboratory animals that are genetically predisposed to obesity-White meshed endocrinology with the study of obesity by exploring the role of the adrenal gland in obesity.
According to White, scientists had discovered in the mid-1990s a hormone known as leptin that helps regulate body weight and metabolism. Leptin, which is produced by fat tissue, helps decrease appetite and plays a vital role in calorie intake and calorie burning. Many thought leptin was a magic bullet for weight control, though research has since shown it is just one of many factors that affect weight gain and loss. But this discovery launched a whole new "golden age" of research on obesity, and White was positioned to be involved in that work.
After completing his Ph.D. at LSU, White did post-doctoral work at the University of Georgia, then joined the AU Department of Nutrition and Food Science in 1996 where he continued to work on the physiological processes underlying obesity and its complications. He holds an adjunct appointment in the AU Department of Anatomy, Physiology and Pharmacology and is a member of the Boshell Diabetes and Metabolic Diseases Research Program.
White became involved in the Boshell Research Program via Robert Judd, Boshell Program director, whom he had met at a professional meeting several years earlier. The Boshell Program's mission is to enhance opportunities for diabetes research at Auburn through cross-disciplinary scientific discussion, support the study of new ideas, foster the development of investigators new to the field of diabetes and expand the overall base of diabetes investigation at Auburn.
White, along with numerous other scientists at Auburn, is helping find all the pieces to the diabetes and obesity puzzles, which someday may be put together to solve myriad heath problems in Alabama.
"Alabama is number one in the incidence of diabetes (which is closely tied to obesity issues) per capita," says White. "The work we are doing in our department and through the Boshell Program is really important to our state. In a sense, it is a humanitarian effort."
Luckily, White's new position will not put an end to his scientific endeavors. With the help of a post-doctoral student, he will continue his research program. In fact, his new position may help enhance that effort. Already several NFS faculty members are involved in obesity outreach and research projects, and White hopes those efforts can be expanded.
In addition to his fine reputation as a researcher, White also is well respected for his teaching talents. According to White, he truly loves teaching, a fact that has been obvious to his students. He has been named an outstanding professor by the AU Panhellenic Council and voted as the outstanding faculty member in the College of Human Sciences. He hopes to keep his hand in the teaching program as well, despite his new administrative duties.
As department head, White sees his role as a liaison and facilitator between his faculty and staff and upper administration. He also believes the future is bright for his department. Within his department are several academic and scientific program tracks, including nutrition, food science and hotel and restaurant management.
"We have a unique and diverse department, and it is exciting to be involved in this department's future," White says. "We would like to make a difference in our state and we are positioned to be able to do so."
---
Vazsonyi Selected for Fulbright Fellowship to Slovenia
Alexander T. Vazsonyi, associate professor of Human Development and Family Studies in the AU College of Human Sciences, has been selected to receive a Fulbright lecturing/research award. His proposal entitled The Etiology of Adolescent Problem Behaviors and Deviance/Problem Behaviors and Deviance in Slovene Adolescents will allow him to spend fall semester 2004 at the University of Maribor in Slovenia.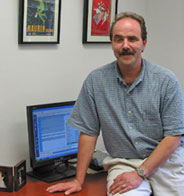 Alexander T. Vazsonyi
"I feel deeply honored to have been selected for this opportunity and to serve as a cultural ambassador from United States to Slovenia. I look forward to learning more about families, youth and adolescents growing up in this post-communist country that has only been independent a little over a decade, and that currently is experiencing tremendous change. I also welcome collaborating with members of the faculty at the University of Maribor," says Vazsonyi.
According to Vazsonyi, Slovenia used to be part of the Yugoslav Republic and is often confused with Slovakia. Only half the size of Switzerland (7,800 square miles), Slovenia borders Austria, Croatia, Hungary and Italy. In the northeast, Slovenia includes the Julian Alps and in the south, it borders on the Adriatic Sea.
On May 1, 2004, Slovenia-together with Cyprus, the Czech Republic, Estonia, Hungary, Latvia, Lithuania, Malta, Poland and Slovakia-joined the EU 25, formerly the EU 15. In preparation, it is one of the first countries from the former East Block that has instituted the EURO as official currency. Thus, Slovenia provides an exceptional opportunity to also study society-level changes and how these impact individual development and behaviors.
Vazsonyi's research interests focus on adolescent development with a particular emphasis on etiological factors that contribute to our understanding of problem behaviors and deviance. As such, Vazsonyi's work has focused on and included youth from Hungary, Japan, the Netherlands and Switzerland as well as diverse populations in the United States ( e.g., Black Belt teenagers).
A key feature of his work is a comparative approach to the study of human development and behaviors. He believes that this approach provides a unique opportunity to examine and understand potential similarities and differences in developmental processes that in turn inform questions about etiology (the study of causes or origins)-specifically whether etiology generalizes across populations or whether it is context-specific.
Maribor, which is located in the northeast near the Austrian border, is the second largest city in Slovenia after the better known Ljubljana. Slovenia has a very rich culture and a strong national identity. The early Slovenes settled in the river valleys of the Danube Basin and the eastern Alps in the 6th century, though for most of the past 1,400 years, Slovenes did not enjoy independence.
The Fulbright program is administered by the U.S. Department of State, Bureau of Educational and Cultural Affairs.
---
---
Auburn University Honors McClary
Veterinarian David McClary of Greenfield, Ind., has been honored by Auburn University with the El Toro Award for excellence in food animal medicine. The award was presented during the AU College of Veterinary Medicine's 97th Annual Conference recently.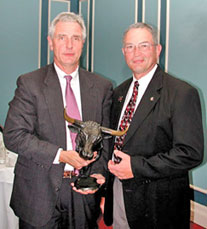 David McClary (left) of Greenfield, Ind., accepts the EL Toro Award from AU professor Dwight Wolfe.
"Dr. McClary is a national leader in cattle research and in the development of cattle products, and he is very involved in working with veterinary students," said Dwight Wolfe, AU veterinary professor.
McClary, a 1974 Auburn veterinary graduate, is a senior cattle technical consultant with Elanco Animal Health, covering the eastern half of the United States. He conducts field research and development of animal health products to ensure a safe food supply.
He earned his bachelor's degree from Western Kentucky University in 1970 before enrolling in Auburn's veterinary program. He also has a master's degree in theriogenology from Auburn and is a diplomate in the American College of Theriogenologists. He worked as an assistant professor at Auburn from 1982 to 1986.
McClary is a past president of the American Association of Bovine Practitioners and is active in many professional theriogenology and bovine veterinary organizations. He is a member of the Auburn University Alumni Association, the Indianapolis Auburn Club and the AU College of Veterinary Medicine Alumni Advisory Council.
The El Toro Award at Auburn was established in 1994 by former AU extension veterinarian Jim Floyd in memory of his father, J.G. Floyd of Upshur, Texas, an oilman and cattleman who owned the El Toro Sales Company in Shreveport, La.
It is designed to allow students to meet food animal veterinarians whose career achievements qualify them as role models. Criteria include outstanding service to food animal medicine and production, organized veterinary medicine and other exemplary service to food animal industries.
---
---
New Forestry and Wildlife Sciences Building Nearing Completion
By: Glenn Glover, SFWS Building Committee Chair, (glover@auburn.edu; 334-844-1019)
The long-awaited new School of Forestry and Wildlife Sciences (SFWS) building was officially started Sept. 19, 2003. The site was quickly cleared and excavation began Sept. 30. The residual forested area on the west side of the building was carefully protected-a chain link and silt fences were installed to keep workers and equipment out of our new "backyard." By late October drilling began on dozens of 36- to 54-inch diameter, 20- to 30-foot deep holes, filled with steel rebar and concrete to act as the supports for the 110,000 square-foot facility.
By late November wall forms appeared. Most of the first floor of the four-story building is underground. All these walls are poured concrete and steel, well sealed to keep the inside dry. Workers started on the south end of the building, working their way north through the central wing; the wood, glass and copper main connector; the north wing (first two floors house all classrooms and teaching related functions); and the 150-seat assembly room with an adjacent outdoor pavilion.
Working through the holidays and slogging through the winter mud, all of the first floor slab-on-grade floors were finally poured by March. In the meantime, columns and the second-level floors were poured. The building was finally visible above ground!
March and April saw the columns and walls begin to extend to the sky! By early June, all of the concrete structure was finished. Interior walls and electrical, mechanical and plumbing rough-in was started. By mid-summer interior finishing work will begin and by fall and early winter of this year, final finishing will be under way. Construction is scheduled to be complete by early 2005. After a couple of months of testing and balancing the heating/air conditioning system, checking out all other aspects of the building and tending to final details, we will be ready to move into our new home late spring or early summer and be fully operational by Fall Semester 2005.
The new building will provide state-of-the-art teaching facilities, modern and spacious research laboratories and project rooms (for non-wet lab faculty) and appropriate facilities for administration, extension and outreach activities. The 150-seat assembly room will be used internally by faculty and students and will, we hope, attract professional, association and landowner meetings. Students will again have a lounge to call their own, with a separate lounge and library for faculty, staff and graduate students. We will have more conference rooms and storage space than in our current building. In short, we will have a facility that will help us attract and retain quality students and faculty and facilitate the many activities and responsibilities of the School for many years to come.
Visit www.sfws.auburn.edu then click on the building to see a live Web cam and regularly updated images and reports of the building's progress.
---
Brinker Named to USDA Forestry Research Council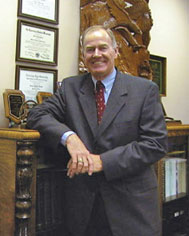 Dean Richard Brinker
Richard Brinker, Dean of the AU School of Forestry and Wildlife Sciences, has been appointed to the U.S. Department of Agriculture (USDA) Forestry Research Advisory Council (FRAC), which advises the U.S. secretary of agriculture on forestry research programs.
"This council serves an important role reporting on forestry research within federal and state agencies, forestry schools, and forestry industries," said Ann Veneman, U.S. secretary of agriculture, who recently renewed FRAC for another two years and appointed 11 new members-including Brinker-bringing the total council membership to 20.
"Now that FRAC has a full complement of highly qualified members, I look forward to its first meeting this August so we can continue to tackle important issues that lie ahead," Veneman said.
"Our newest members represent a broad range of groups concerned with forestry research," said Joseph J. Jen, USDA undersecretary for Research, Education, and Economics. "Our strength is in our diversity of backgrounds and expertise, and I look forward to reviewing recommendations generated by FRAC."
FRAC is chaired by Greg Johnson, director of research at Weyerhauser Corporation in Albany, Ore.
Nominations for new members were reviewed by the Cooperative State Research, Education and Extension Service (CSREES) and the Forest Service (FS).
Upcoming meetings will appear in the Federal Register and on the CSREES and FS Websites. For more information please contact Catalino Blanche, CSREES national program leader, at cblanche@csrees.usda.gov
---
---
Arboretum Dedicates Founder's Oak Historical Marker
The College of Sciences and Mathematics Donald E. Davis Arboretum dedicated the Founder's Oak Historical Marker during its annual Arbor Day Celebration in April.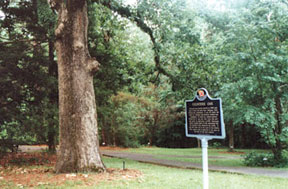 Arboretum's Founder's Oak is 150 years old.
The event, which took place at the garden's open-air pavilion, was the ideal time to dedicate the marker, says Arboretum Curator Christy Hartsfield.
"Our Arbor Day event was a time we set aside to celebrate trees and increasing awareness of the importance of trees," Hartsfield says. "And, it was only fitting we honor one of the most celebrated trees within the Arboretum at this time."
Located just west of the pavilion, the majestic post oak ( Quercus stellata) measures 46.5 inches in diameter and has stood tall for 150 years as a symbol of strength and perseverance. It was six years old when the East Alabama Male College was established and 91 years old at the start of World War II. This giant also overcame the wrath of Hurricane Eloise, which struck the area in 1975, wreaking havoc in the Arboretum.
The historical marker, which was recently approved by the Alabama Historical Association, will preserve the oak's rich history, says Norwood Kerr, of the Alabama Department of Archives and History.
"The Alabama Historical Association's historical marker program began at the very inception of the organization, in 1947," Kerr says. "The Association's founders sought to encourage both the state's citizens and its visitors to appreciate the rich history of Alabama, and that continues to be the goal of the historical marker program today. The commemoration of historic sites and personalities can connect us in the present to look on the past, preserving the memories and accomplishments of our forbearers."
Arboretum namesake Donald E. Davis, who was a distinguished professor of ecology at Auburn, was on hand to officially dedicate the marker. Davis' efforts led to the establishment of the Arboretum in 1963. He first proposed the idea of an arboretum during a School of Agriculture seminar in 1959. In recognition of his 35 years of dedicated service to the University, the garden was named the Donald E. Davis Arboretum of Auburn University at a rededication ceremony in May 1982.
---
Around the AAES
Excess Property Provides Affordable Equipment Options
Elaine Rollo with surplus pesticide sprayer, a $2,574.90 savings for AAES.
Federal Excess Personal Property (FEPP) is property that has been declared excess by the Federal government and is on loan to eligible entities to further the purpose of cooperative agricultural research or extension programs. The following activities are eligible to participate in the FEPP program. Cooperative Extension services at Land-Grant universities, agricultural experiment stations, School of Forestry and Wildlife Sciences and College of Veterinary Medicine.
The U.S. secretary of agriculture has delegated compliance for the FEPP program to the Cooperative State Research, Education, and Extension Service (CSREES). Title to the property remains vested with USDA and items may not be disposed of, cannibalized (disassembled), or modified without the written approval from the FEPP Coordinator in Washington, D.C.
Fishing vessels, trucks, tractors, agricultural machinery and equipment, furniture, office supplies and laboratory electronic equipment are some of the many items procured since 1984 that have resulted in a cost savings of more than $7.8 million for the colleges of Agriculture and Veterinary Medicine, School of Forestry and Wildlife Sciences and the AAES. If you have a current or future need for items for your research or extension programs or would like additional information about our FEPP program, contact Elaine Rollo, accountable property officer, at 844-3204 or email at rollome@auburn.edu.
---
Eight Outlying Units to Celebrate 75 Years of Service in 2004
By: Jim Bannon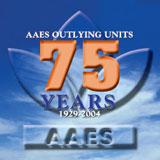 An outlying unit system that served the major soil regions of Alabama was a dream of Alabama Agricultural Experiment Station (AAES) directors that was not realized until 1927 when the Alabama Legislature passed legislation that supported its establishment. These units celebrate 75 years of service to Alabama in 2004.
Under the direction of Marion J. Funchess, five major outlying units and 10 experiment fields were established in 1927, although they were not fully operational until 1929. The five major Research and Extension Centers and the three remaining experiment fields continue to play an important role in executing the research mission of the AAES. The individual roles of each of these outlying units continue to be dynamic as the face of rural America changes.
Research programs and individual experiments at these units may vary from a basic varietal evaluation of a crop or annual bedding plant to a rotation that evaluates the effects of livestock on soil compaction, use of conservation tillage systems and subsequent production of vegetables. The hypotheses of many scientists have been reduced to practice on the outlying units, resulting in a highly productive agriculture for Alabama as well as other areas in the Southeast. Essentially, the outlying units provide a field laboratory for Auburn University scientists to test concepts that result in an improved quality of life.
While the scientists who work on Auburn's outlying units represent various specialized scientific disciplines, many of the current problems that face AAES researchers require a team approach to problem solving. Many different systems may require coordination in order to solve a problem. This becomes especially visible when the task at hand requires solving the research problem with a focus on creating jobs to improve the economy of a region.
The AAES is currently working on two initiatives that were funded by the 2004 Alabama Legislature to develop products that will result in businesses and employment in the Sand Mountain and Black Belt regions. The two outlying units that are located in these regions will play an integral role in the execution of these initiatives.
As the AAES works to continue its research-oriented mission, the outlying units will continue to play a pivotal role in the teaching, research and outreach mission of the University. These units will become even more important in future roles as they continue to form new partnerships; catalyze strong, vibrant community relationships; provide leadership for rural development; and improve the quality of life for Alabamians. Happy 75th Birthday!
---
Wiregrass REC Gets New Pesticide Facility
Plans for a new pesticide storage and handling facility at the Wiregrass Research and Extension Center in Headland are almost complete, thanks to a new building team including the AAES, Auburn University Facilities Division and building and design consultants.
The building team was created to address safety issues needing immediate attention at research and extension centers statewide.
According to Jim Bannon, director of the AAES outlying units, "A team approach to these building projects has helped us speed up the process and complete the projects in a more efficient manner."
The intention is to use the same building plans at the other research and extension centers, so all the buildings have the same architectural symmetry with only minor adjustments, depending on the site.
---
Sand Mountain REC Auditorium Becoming a Reality
Bids for the construction of a new auditorium at the Sand Mountain Research and Extension Center in Crossville are expected to be opened and accepted this summer. The 43- x 100-foot building will seat 175 people and include a 16- x 28-foot lobby that will honor the lives of Roland and Mary Sue Wiggly Harper, whose children left 120 acres located near the Center to Auburn University. Proceeds of $130,000 in timber sales from this property are being used to help fund the project. The area will feature writings and other artifacts from the Harpers. The building will be attached to the current office and will face Alabama Highway 68. The project also includes a new parking lot and landscaping.
State Sen. Lowell Barron was instrumental in obtaining the remainder of the money for this facility. His support of this Center and this project was crucial to making it a reality. A date for the groundbreaking ceremony will be announced later this summer.
---
Research Briefs
Lime for Udderly Healthy Milk Cows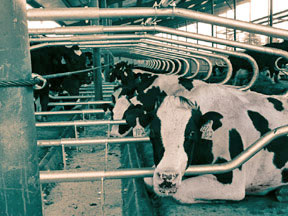 Lime for Udderly Healthy Milk Cows
One of the biggest headaches that dairy farmers worldwide face is mastitis. Mastitis, an inflammation of cows' udders, costs U.S. milk producers an estimated $1.4 billion a year in terms of lost milk production, discarded milk, vet and medication bills and culled cows.
Numerous bacteria-which are present in even the cleanest of dairy barns-are known to cause mastitis. And though the condition usually can be treated with antibiotics, the use of antibiotics in food animals has become a hotly debated issue in itself.
The key, obviously, is prevention and control, and AAES researcher and AU animal scientist Tom McCaskey has launched a study that could provide dairy farmers with a highly economical, readily available, all-natural mastitis-preventing tool: hydrated lime.
McCaskey says previous research conducted by AU's animal sciences department has demonstrated that hydrated lime is extremely effective in killing bacterial pathogens, including E. coli, in cow manure. This study will determine whether applying hydrated lime in dry powder form on the "mattress pads" where dairy cows rest will help keep the animals mastitis-free.
Hydrated lime, which offers the additional benefits of odor, fly and moisture control, has a number of environmental uses, including use as an agent to purify drinking water and to kill pathogens in sewage sludge.
---
Rollovers, ROPS and the Auburn Connection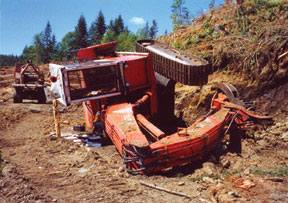 Operators of hydraulic excavator-based timber harvesting machinery worldwide soon will have significantly more protection against injury and death in the event of rollovers, thanks in large part to AAES biosystems engineering researchers at AU.
For years, heavy-equipment manufacturers worldwide have recognized the critical need for international rollover protective structures (ROPS) safety standards for excavators, but such standards have yet to be written because the industry has been unable to agree on the specific levels of dynamic forces and energy absorption values the ROPS should be designed to withstand.
What they needed was an independent third party to define those forces. Enter AU biosystems engineers-primarily, graduate student Matt Veal and department head Steve Taylor-who, in a project sponsored by the U.S. Forest Service, developed sophisticated computer simulation models that predict these forces and energy values in dozens of scenarios involving excavators of a wide range of sizes.
The models will give design engineers a formula in which, by plugging in the size of the excavator they're designing, they can calculate exactly how strong the ROPS should be to keep them from breaking during a rollover and how flexible the ROPS should be so that, in the event of a rollover, they give slightly to absorb energy.
Taylor says the AU work represents tremendous cost savings for the industry.
"We used computer simulation to essentially test hundreds of rollover scenarios for excavators," Taylor says. "The industry could have learned the same thing by actual physical testing, but to take a $150,000 excavator and roll it over just one time would be costly. Think about how expensive it would be to destroy more than 200 excavators."
The computer simulation Veal developed also reveals several interesting stability relationships that could help indicate when excavators would roll completely over versus tipping over 90 degrees, Taylor says.
"The bottom line," says Taylor, "is that a new international standard on ROPS for excavators is being written, and the basic force/energy relationships in the standard are all to be based on one M.S. student's thesis at Auburn University."