The Following information offers updates on the CoAg teaching program and student activities.For more information on these stories or on educational opportunities in the College, contact Bill Alverson, assistant dean, or Bill Hardy, associate dean, at 334-844-2345 or visit the CoAg Web site at http://www.ag.auburn.edu/.
---
Accidental Ag Week?
Last spring a series of events all seemed to fall during the same week, which led to the creation of what may be a new Ag Hill tradition of "Ag Week at Auburn."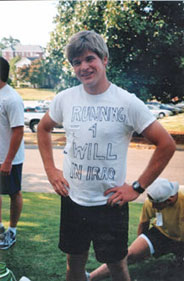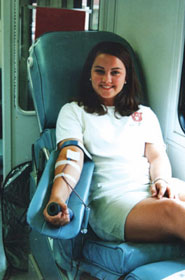 Left Photo: 5K race; Right Photo: Blood drive
During the week of April 19-23, Ag Hill was the site for a 5K race, a blood drive, the annual Ag Hill picnic and much more. These are photos of the fun and fellowship created by these events, which will be repeated in 2005 and may include additional events that draw students from across the Auburn campus to learn more about the College of Agriculture's history and programs.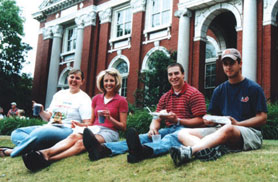 Ag Hill picnic
---
CoAg Students and Faculty Receive Awards
The four top CoAg student awards went to two graduating seniors, while the SGA Award for Outstanding Faculty Member was awarded to a veteran member of the CoAg faculty.
Ellen Knight was the recipient of the President's Award and the Comer Award, while Elisabeth Op't Holt was recognized with the SGA Outstanding Student Award and the Claude Hardee Memorial Award. Associate Dean Bill Hardy received the SGA Outstanding Faculty Member Award.
The President's Award is presented each academic year to a graduating senior who has excelled both academically and in extracurricular activities.
Knight, from Wadley, Ala., graduated summa cum laude with a B.S. in agronomy and soils and will remain at Auburn University to pursue her master's degree (see feature story on Knight).
Knight was also honored through receipt of the Comer Award for Excellence in Natural Sciences. This award, which was established in 1923 by former Alabama governor B.B. Comer, recognizes three outstanding graduates-one in agriculture, one in natural sciences and one in the physical sciences. To be eligible for the award, students must have exceptional academic records in an area of study that places heavy emphasis on the sciences.
Elisabeth Op't Holt, a native of Daphne, Ala., graduated cum laude with a degree in animal science-pre vet. She will continue as an Auburn University student as she pursues her DVM degree in the College of Veterinary Medicine.
Op't Holt was first honored with the SGA Outstanding Student Award. This recognition was earned because of her excellence in academic achievement and because of the outstanding contributions that she made to the programs of the College of Agriculture and Auburn University.
Op't Holt served as president of the Ag Ambassadors during the past year and helped to guide the organization to one of its most productive years. She also developed the student track for the annual meeting of the National Agricultural Alumni and Development Association that was held in Mobile in June.
Op't Holt also was involved in many other extracurricular activities.
Op't Holt also received the Claude Hardee Memorial Award. This award, based on scholarship, leadership and character was established by the Hardee family to honor the memory of Claude Hardee, a 1936 Auburn graduate.
Associate CoAg Dean Bill Hardy was honored through receipt of the SGA Outstanding Faculty Member Award for the College of Agriculture. Hardy has been a member of the College faculty since October 1972 and throughout his career, working with students and helping them to become successful has been his greatest joy.
---
CoAg Students Make a Strong Showing in Marketing Contest
The student marketing team of Auburn University's chapter of the National Agri-Marketing Association (NAMA) chose Porchetta del Colosseo as their project for the student marketing competition at the 2004 NAMA National Convention.
During the week of April 13-16 the team took its marketing plan and visual presentation to the national convention in Kansas City, Mo. There they competed with 31 other collegiate student marketing teams from the United States and Canada.
To get to Kansas City the team worked for a semester and a half developing a written marketing plan and a complex slide show presentation with an oral script. "We received two hours worth of credit for two semesters," says Amy Granger. "Several nights we met in the computer lab in Comer and everybody spent a lot of time working on it by themselves."
The team was composed of agriculture economics students Wesley Mims, Thomas Hall and Granger; agricultural communications students Sara Borchik and Anna Pitts; and Jessica Brooks, a marketing major from the College of Business, and NAMA adviser Bob Nelson, who is also a CoAg professor of agricultural economics and rural sociology.
The competition requires that the marketed product be an agriculture commodity. By applying the same principles professionals use, the goal is to have the marketing plan ready to send the product into the marketplace.
Porchetta del Colosseo, a traditional Italian dish originating from the city of Ariccia, Italy, is a deboned young pig, rolled in spices then slowly roasted over a spit.
Posing as the marketing team for an Alabama pork cooperative, the product was marketed to Southern tailgaters as a substitute for the traditional meats often cooked for tailgating parties.
"The fact that we were creating a new market, made it hard to research," says Granger. "There are not a lot of meat products targeted to tailgaters and we had to do a lot of extra research."
Porchetta del Colosseo has many ties to Auburn. Ariccia, Italy, and the city of Auburn are sister cities and the new restaurant at the Auburn University Hotel and Dixon Conference Center has been named "Arricia." There is also a connection with the College of Human Sciences, which sends a group of students to Ariccia each year.
During their first round of judging at the competition Auburn competed with the overall number one and number four teams, University of Florida and Kansas State University. To their disappointment they were out for the rest of the week.
Yet the trip was not in vain, as the marketing competition was only a part of the entire experience. A career show and luncheon put students in contact with more than 100 professionals working in different agriculture industries from around the nation.
Each member left Kansas City with a wider view of careers in the agriculture industry and each agreed the hard work and developed friendships were worth the experience.
"NAMA took things we learned in class and applied them in a real world experience that made it all make sense," says Borchik.
For 12 years Nelson has been advising the NAMA student organization and marketing team. Nelson guides his teams to learn from the process of putting together a professional marketing plan then presenting it, instead of winning the competition.
"You don't want to do the competition for the glory of winning, because you'll be disappointed by the luck of the draw. You do it for the experience," says Nelson. "Neido Qubein, a speaker at a professional development session during the convention, got it right when he said, 'You can't get experience unless you have experiences."
---
CoAg Hosts NAADA Convention
Visitors from agricultural colleges across the United States were in Mobile, Ala., June 13-16 for the 2004 National Agricultural Alumni and Development Association (NAADA) national conference hosted by our own College of Agriculture.
NAADA is composed of representatives who advance agriculture through serving alumni, development and student professionals by expanding the human and financial resource bases of the nation's agricultural colleges.
The meeting drew some 200 professionals from throughout the United States, reportedly one of the largest NAADA meetings ever.
Highlights of the conference included an opening reception featuring a Mardi Gras parade, educational sessions for professionals and students, guest speakers, agricultural tours and a seafood feast and entertainment on the battleship USS Alabama, which is docked in Mobile Bay.
Sponsors who helped fund the meeting and fill hospitality baskets for the participants included:
Alabama Agricultural Statistics Service
Alabama Cattlemen's Association
Alabama Dairymen's Association
Alabama Department of Agriculture and Industries
Alabama (Music Group) Fan Club-Fort Payne, Ala.-"Sock Capital of the World"
Alabama Farmers Cooperative
Alabama Farmers Federation Beekeepers Commodity Division Cotton Commodity Division
Alabama Peanut Producers Association
Alabama Pork Producers
Alabama Poultry and Egg Association
Alabama Sunshine
AU Alumni Association
AU Athletic Department
AU Environmental Institute
Cooper King, Jr.
Federal Land Bank Association
First South Farm Credit
Food Source Biodegradable Fishing Worms
Gold Kist, Inc.
Ioka Farms, Inc.
John Jensen
Joseph Yeager
Mississippi-Alabama Sea Grant Consortium
Rudy Paul Yates
Sister Shubert Rolls
Southern Pride Catfish
Stanley and Barbara Wilson
Stephen Musser
Terminix International
United Bank
Universal Blanchers
---
AU Equestrian Team Jumps Hurdles to Finish Year
The Auburn University equestrian team, which wrapped up its second year as a women's varsity sport at AU with strong showings in regional and national championship competitions, also garnered top scholastic and community service honors on campus in the AU Athletic Department's annual student-athlete recognition program.
At the department's Tiger Torch Banquet 2004 in May, the 34-member equestrian team was presented the first-ever Top Tiger Team Award, an honor established this year by the Student Athlete Advisory Committee (SAAC) as an annual competition among all varsity teams.
For the award, all varsity athletic teams were judged in the categories of academic achievement, community service activities, support for other AU varsity teams and participation in the Athletic Department's CHAMPS (Challenging Athletic Minds for Personal Success) Life Skills program, which equips student athletes with the personal and professional skills necessary for successful futures.
The equestrian team accumulated high point totals in all categories and won the overall competition by more than 500 points over the second-place gymnastics team. Third-place honors went to the volleyball team.
"The AU equestrian team has been a welcomed addition to the Athletics Department because it exemplifies all the qualities a student-athlete should possess," Stacy Martin, SAAC chair, said.
The Tigers salvaged the season when they claimed first place at the Southern Equestrian Championship held in Auburn in late March. At the National Varsity Equestrian Championship in Georgia in April, they finished second behind the defending national championship Georgia Bulldogs, significantly better than the seventh place showing the Tigers had at nationals a year ago. Equestrian scholarships through the AU Athletic Department could become available in the future.
---
Funchess Hall Lawn Receiving a Facelift
Working closely with the Auburn University Landscape Services division and the Alabama Agricultural Experiment Station's Research Operations division, the College of Agriculture has been busy landscaping the front "yard" of Funchess Hall.
Research Operations provided the initial demolition and site preparation work, while Landscape Services has handled the planting of new sod and shrubs. This collaborative effort will soon result in a beautiful new entryway for CoAg students, alumni and visitors. On-campus assistance was provided by CoAg Horticulture Professor Gary Keever; CoAg Horticulture Assistant Professor Amy Wright; Research Operations staff Glenn Terrell, Glen Davis, Gerald Frazier, Joe Fulford, Henry Avery and Buster McGinty; and Landscape Services staff. Donors included Tom Dodd Nurseries and Beck's Turf Farm (Wayne Bassett.)