In Our Opinion. Extension System specialists have been voicing their opinions in the state's newspapers during recent months, which is helping increase awareness of issues and also Extension programs and projects. The following is an opinion piece that ran recently in several Alabama papers.
Putting Our Money Where Our Mouths Are
By: Joseph Kemble, Extension System Horticulturist and AU Associate Professor of Horticulture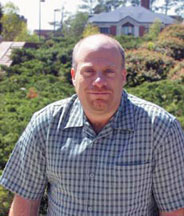 No other consumers in the world are more discriminating than Americans. We demand products that are cheap, plentiful, of the highest quality and safe.
Because of these uncompromising tastes, our critics have called us selfish and unrealistic. Could they be partly right? Have we been penny-wise and pound-foolish in some respects?
I think so–at least as far as freshly grown produce is concerned.
I'll even go a step further: If Americans continue to demand safe, domestically grown produce, they're going to have to put their money where their mouths are and do their part to ensure that Americans stay in business.
Oversimplification? Absolutely not. Within the last few decades, globalization has created an entirely new set of circumstances that simply are beyond the ability of average small-scale U.S. vegetable producers to control. Case in point: the World Trade Organization's recent decision to ban the use of methyl bromide, a key farm chemical used by producers for a variety of different purposes. For American vegetable farmers, it's a shot across the bow. Critics of methyl bromide argue that the ban is necessary because commercially produced methyl bromide is contributing to ozone depletion–a dubious argument at best.
What is certain is that the loss of this key farming chemical has dealt a crippling, perhaps even fatal, blow to U.S. vegetable production. Adding insult to injury, Third World farmers are exempted from this ban–a factor that likely means they'll be in an even better position to compete with U.S. producers.
There simply is no single replacement for this multipurpose farm chemical used to control weeds, soil-borne pathogens and several diseases. In cases where alternatives are available, they are too expensive for many financially strapped growers, especially small-scale growers. Even though farmers are allowed to use methyl bromide until the ban goes into effect, the cost has already doubled within the past year.
Supporters of the methyl bromide ban argue that producers who have previously used the product to control soil-borne diseases can make up for this loss merely by adopting crop rotation. In theory, they're right. The problem is that rotation simply isn't feasible for most producers in an era when urban sprawl coupled with zoning laws precludes the conversion of land into agricultural use.
The methyl bromide ban is only one of many factors that have left producers close to the end of their ropes.
The irony is that millions of American consumers are close to the end of their ropes, too, though most aren't aware of it. After all, the demise of domestic vegetable farming will inevitably lead to an increasing dependence on foreign-grown produce, much of which is not subject to the safety standards prevalent in the U.S.
It was a fact driven home last year with horrifying realism after one man died and hundreds others were sickened by hepatitis A after consuming tainted green onions at a Pennsylvania restaurant. The outbreak was eventually traced to one or more farms in Mexico, where the virus apparently was spread either through the distribution system or during growing, harvest, packing or cooling.
Is this a clarion call for subsidies? No. But the fact remains that if American consumers really are serious about maintaining American self-sufficiency, they're going to have to lend a helping hand to producers.
Part of this will involve a minimal level of investment in agriculture by supporting research into more effective ways to control common pests. And, yes, this may also involve paying slightly higher prices for American-grown produce.
If producers no longer are able to absorb all of the costs, American consumers simply are going to have to pay more.
Gross simplification? No. Just the hard facts.
---
Extension Spearheading Statewide Agri-Tourism Effort
Working with three other public and private partners, the Alabama Cooperative Extension System is spearheading a statewide effort to help small communities capitalize on two of their most abundant but frequently overlooked assets–agriculture and tourism.
"Tourism and farming, which each generate about $6 billion in income each year in Alabama, are a natural match," says Tom Chesnutt, an Extension System tourism specialist and AU assistant professor of nutrition and food science. "After all, there are thousands of Alabamians, many of whom are several generations removed from the farm, who have a natural curiosity about how commodities raised on the farm eventually find their way to supermarket shelves."
The Agri-tourism Partnership, composed of Extension, the Alabama Department of Agriculture and Industries, the Alabama Farmers Federation and the Alabama Bureau of Tourism and Travel, plans to tap into this immense potential through a two-step process. Its first goal is to develop the statewide Alabama Agri-Tourism Trail–an exhaustive inventory of agri-tourism sites that will be posted on the partnership's new Web site, www.alabamaagritourism.com.
Once this inventory is completed, Extension will work with its partners to carry out an extensive marketing effort to alert the general public about these opportunities.
Although initial efforts will focus on marketing existing agri-tourism operations, the partnership also has plans for more ambitious outreach efforts in the future.
"There are, after all, lots of things for an individual farmer or community to consider–liability risks, providing adequate parking facilities, all kinds of things," Chesnutt says.
For many communities throughout the state, undertakings such as these may present the only real opportunity for economic development, Chesnutt says.
He cites Wright's Dairy, located near Anniston, as one of Alabama's best examples of agri-tourism. Several years ago, the dairy added a tourism component to its dairy operation so that visitors could see how milk is collected and eventually manufactured into ice cream and other dairy products. The dairy has since developed into a popular tourist attraction and school field trip destination.
For more information on the agri-toursim effort, contact Chestnutt at 334-844-3517.
---
Alabama Youth Attend National 4-H Congress
Fifteen Alabama 4-H'ers attending National 4-H Congress in Atlanta recently got a glimpse into how global environmental issues can affect individuals from every corner of the world.
"Growing into the Future" was the theme for the 2003 National 4-H Congress. Programs focused on issues related to rain forests, global warming, acid rain and wetlands.
Some of the nation's most outstanding community leaders, speakers and educators provided inspiration and current information on youth-related issues.
National 4-H Congress is the flagship event of the 4-H program. For 79 years, young people from the United States and its territories have participated in this youth leadership development conference. It provides youth, ages 14 to 19, with a quality educational experience that addresses their needs and issues while helping them become competent and caring citizens.
The Alabama delegation included Sabrina Balch, Limestone County; Sonny Lee Brinkman and Kimberly Lynn McGraw, Mobile County; Cody Brown, Erin Wallace and Heather Partin, Morgan County; Lindsey Davis, Elmore County; Benjamin Gasser, Clay County; Freda Kelley, Coffee County; Katlin Mulvaney, Lee County; Jennifer Swindall, Limestone County; Rebecca Turner, Covington County; Rachael Hyde, Jefferson County; Damoreo Green, Pike County and Stephanie Hynes, St. Clair County.
---
"When Alabama Families Go to War: Recognizing and Responding to the Needs of Military Kids" Forum Held in April
Alabama deploys more National Guard and Reservists than any other state. Today, more than 8,000 men and women in the Alabama National Guard and Reserves are serving their country.
In almost every community in the state, there are friends and neighbors who have left behind their jobs for military service.
Family members who would normally encourage and assist kids during the most difficult times of their lives may be out of the picture for months or even years. It's tough on the parents, but it's tougher on the kids.
Alabama 4-H, in conjunction with the U.S. Department of Agriculture Cooperative State Research, Education and Extension Service and the Alabama Cooperative Extension System, hosted a public forum on these issues in April.
The forum, "When Alabama Families Go to War: Recognizing and Responding to the Needs of Military Kids," brought together youth agencies, government and military representatives and representatives of educational institutions to discuss how Alabamians can best meet the needs of the children of National Guard members and Reservists who are serving in Iraq and other countries.
According to Chuck Hill, an Extension System 4-H youth development specialist and 4-H state military liaison, the forum provided an opportunity to identify specific needs of these children, especially those in small or rural communities, and put together resources to meet those needs. It also was a way to connect with young people who can share their experiences as children of deployed Guard and Reserve parents. Four-H already has established programs for youth living on military bases, which may provide a good foundation for dialog and future programming for this particular group of young people.
For more information on the forum and its outcome, contact Hill at chill@aces.edu.
---
Black Belt Study Paints Grim Picture of Childhood Obesity
Study looks at childhood obesity issues.
Childhood obesity is an epidemic in the United States, and a recent Alabama Cooperative Extension System study reveals the problem is especially severe in the state's Black Belt region.
The results of the study, which included more than 400 fourth- and fifth-graders in Bullock, Macon and Wilcox counties, paint an especially grim picture of Alabama's obesity problem, particularly in west Alabama.
A third of all Black Belt children are overweight or in danger of becoming overweight. Type II diabetes, a disease also commonly known as adult onset diabetes, is now being diagnosed in children as young as 2, according to Jean Weese, an Extension food scientist and associate professor of nutrition and food science at Auburn University who served as the study's principal investigator.
The percentage of overweight females in the study was twice the national average for children between the ages of 9 and 10. Roughly 30 percent of females ages 9 and 10 were overweight, compared with about 20 percent of boys who participated in the study.
Weese and the other researchers also were surprised to learn that the most obese children, compared with other participants in the study, tended to consume fewer calories.
The findings, Weese said, reinforce what researchers have suspected all along: that the solution to obesity involves far more than changing bad eating habits.
For more information, contact Weese 334-844-3269.
---
Grand Champion Alabama 4-H/FFA Market Hog Chosen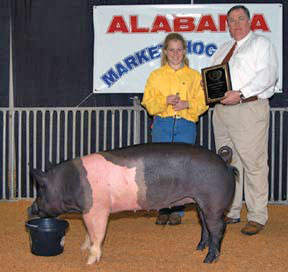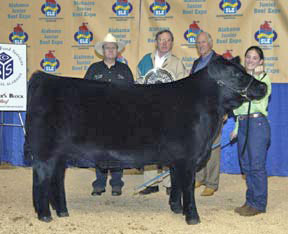 Above left photo, Julie Rasier and Van Smith with the grand champion hog at the 2004 Alabama 4-H/FFA Market Hog Show. Above right photo, Katelyn Allen (right) with the grand champion steer at the Alabama Junior Livestock Expo.
Julie Frasier of Etowah County showed the grand champion hog at the 2004 Alabama 4-H/FFA Market Hog Show held in January in Montgomery. Van Smith of Billingsley judged the show. Additional winners are listed on the Extension System Web site at www.aces.edu/dept/extcomm/newspaper/jan21a04.html.
---
Chambers County 4-H'er Wins State Steer Show
Katelyn Allen, a 14-year-old 4-H club member from Chambers County, won the 81st State Steer Show at the Alabama Junior Livestock Expo in Montgomery. More than 200 young people from 45 Alabama counties showed cattle, sheep and goats as part of the five days of competition.
Allen's steer was also the Grand Champion Alabama Bred Steer, the Champion Mediumweight Steer and the Champion Alabama Bred Mediumweight Steer.
Allen showed the Champion Chi-Influence Steer in the Breeds Steer Show and was third in her showmanship class of 18 competitors.
---
"Rice Crispy" Concrete Safeguarding Many Communities from Storm Water Runoff
It looks like a rice crispy treat and leaks like a sieve, which is precisely why it's so attractive to a growing number of Alabama communities.
It's called pervious concrete, one of several new environmentally friendly technologies developed in recent years to help communities better manage the myriad of problems associated with storm water runoff.
"Previous concrete has a lot more void space, so it's a lot chunkier. That's why it looks so much like a rice crispy treat," says Eve Brantley, a water quality agent with the Alabama Cooperative Extension System's Water Quality Program.
These voids allow rainwater to pass right through the concrete rather than off of it, she said, which is exactly what developers had in mind when they designed it. Water percolates down into the ground rather than running off.
Several Alabama communities already have weighed the merits of pervious concrete and like what they have seen. And the merits do have to be weighed because pervious concrete isn't for everyone.
"It may accommodate parking for standard-sized vehicles–certainly not 18-wheelers–and is typically used for areas of low traffic, parking lots or walkways," says Brantley.
"There was a concern that women would get their high-heel shoes stuck in it, but that's not been the case," she adds. Also, people who employ a similar form of porous surfaces, known as plastic pavers, often face the challenge of persuading people to park on them, especially after weeds have spouted through the gravel, she says.
Even so, after exploring all the pros and cons, city planners in Fairhope decided to begin experimenting with pervious concrete. They worked with Sherman Concrete, Brantley and other water quality professionals to install the city's first permeable sidewalk near its new justice center. The site was subsequently used as a demonstration project by the Coastal Alabama Clean Water Partnership to encourage other public and private institutions throughout the Gulf Coast to adopt these kinds of practices.
Permeable surfaces are increasing along the Gulf Coast. Nearby, the Fairhope United Methodist Church installed plastic grid pavers. Closely resembling honeycombs, the pavers are sprinkled with gravel to accommodate the church's overflow parking. Plastic pavers installed at Ladd People's Stadium in Mobile also have greatly reduced flooding.
"Rarely does the stadium manager ever see water buildup in his detention basin," Brantley says. "It infiltrates rapidly into the ground before most of it ever reaches the basin."
Permeable surfaces are only one of several technologies now being used to address the increasingly daunting challenge of controlling storm water drainage problems. One other popular approach involves rain gardens, which combine a subtle form of storm water treatment with attractive landscaping.
"They can look like a flower garden or a plain grass field depending on the purpose you have in mind," Brantley says. "It can handle a little bit of drought and a little bit of flooding. What you're doing is allowing the water to pool up in these retention areas so it can percolate down."
Recently, Brantley's Extension Water Quality Program received a USDA grant to work with the Auburn University Department of Landscape Architecture to encourage more communities throughout the state to adopt rain gardens and similar forms of storm water management. Projects already are under way in Alexander City and Brewton.
For more information, contact Brantley at 334-844-3927.
---
New Income Tax Check-Off to Support Alabama 4-H
Alabama residents can now give money to 4-H when they are completing their state income tax, as 4-H has been added to the charities listed on income tax forms.
The Alabama 4-H Income Tax Check-Off bill passed the Legislature this summer and was signed by Gov. Bob Riley, a 4-H alumnus.
"The Alabama 4-H program is one of the best character education programs our state has to offer," Riley has said. "Four-H, along with the Alabama Cooperative Extension System, has played a vital role in shaping the lives of young people in this state."
Lamar Nichols, state 4-H leader and associate director of the Alabama Cooperative Extension System, says financial support generated through the Income Tax Check-Off program will allow 4-H "to expand to new audiences and become more innovative with the programs already in place.
"We will be good stewards of this money and be as effective and efficient as we can be to deliver the highest quality programs possible to our young people."
Alabama 4-H is the state's largest youth education organization, reaching nearly 180,000 youth between the ages of 9 and 19. Four-H provides programs and activities for youth in rural and urban settings through after school programs, community clubs and special events.
Four-H provides programs in eight areas including: citizenship and civic education, communicative and expressive arts, environmental education and natural resources, family and consumer science, healthy lifestyle education, personal development and leadership, plant and animal sciences and science and technology.
In the Legislature, Sen. Ted Little (D-Auburn) and Rep. Mike Hubbard (R-Auburn) were the bill's original sponsors, spearheading the effort to get the legislation passed. Alabama Senate President Pro Tem Lowell Barron (D-Fyffe) made sure the bill came up for a vote in the Senate.
"It was an honor for me to sponsor this bill because 4-H has had such a positive impact on my life," says Hubbard. "I sincerely hope the Income Tax Check-Off will be utilized by a great number of Alabamians because it is providing funds to support a tremendous program in our state."
Little says, "I am pleased to have a part in making sure all Alabamians have the opportunity to make a contribution to Alabama 4-H.
"I hope Alabamians will accept this with enthusiasm because we all know what 4-H, over the years, has done for our youth."