Agricultural Leaders Inducted into Auburn's Hall of Honor
Five men who have made significant contributions to Alabama agriculture were honored by the Auburn University (AU) Agricultural Alumni Association during its annual banquet and awards program in February.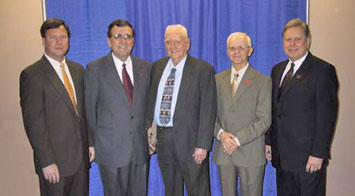 Ag Alumni President Tim Wood, with Hall of Honor winners Beaty, Lane James and CoAg Internim Dean John Jensen
Three of the honorees–Tom Beaty, Cecil Lane and Bryson James–were inducted into the association's Agricultural Hall of Honor, while Benjamin Duggar and Troy Patterson were honored posthumously with the association's 2004 Pioneer Awards.
Beaty, a Coosa County native who now lives in Auburn, founded Universal Blanchers in Blakely, Ga., in 1978. The company, which prepares peanuts for further processing into candy and other food products, has been a key influence in the development of the peanut industry in the Southeast. Beaty's more than 40 years of work in the industry have led to improved profits for peanut farmers and to safer, more affordable peanut-based foodstuffs for consumers.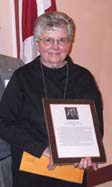 Mrs. Troy Patterson accepts her late husband's Pioneer Award.
Lane, a resident of Benton in Lowndes County, is a charter member of the Alabama Livestock Hall of Fame and a long-time member of the Alabama Cattlemen's Association, where he has held numerous positions. Lane, who owned Lane Cattle Company until his retirement in 2002, has devoted much of his life to the study, development and growth of the beef cattle industry.
James, a Florence native and now a resident of McMinnville, Tenn., has been active in the nursery industry for many years. James is a former professor and director of the University of Florida's Agricultural Research Center in Fort Lauderdale, Fla., and is former co-owner of Cardwell Orchards in Tennessee. Currently, he is a consulting horticulturist and also serves as director of horticultural research for the Southern Nursery Association.
Patterson, a native of Mississippi who joined the AU animal science faculty in 1957, was a much-revered professor and scientist who pioneered research on crossbred beef cattle for Alabama and the Southeast. He also helped establish the Alabama Beef Cattle Improvement Association and statewide performance testing programs for beef bulls and was a member of the Alabama Livestock Hall of Fame. Patterson retired from Auburn University in 1986 but remained active in the Auburn community until his death in 2002.
Duggar, a native of Hale County's Gallion community, was a botanist who earned his master's degree from Auburn in 1892. During his career, Duggar taught at Harvard, Radcliffe and Cornell universities and at the University of Wisconsin and worked for the U.S. Department of Agriculture and the State of Illinois. Nationally recognized as an exceptional plant pathologist, Duggar retired from academia in 1943 and went on to work for Lederle Laboratories, a division of American Cyanamid Company, where he helped isolate an organism that produced the antibiotic aureomycin. He died in 1956.
---
Early Deadline Set for Hall of Honor/Pioneer Nominations
Information and forms used to nominate individuals for the 2005 Agriculture Hall of Honor and Pioneer awards will be mailed June 23, with a July 14 deadline for submissions.
Robert Hensarling, director of Alumni Relations, notes that this is a much earlier deadline than previous years, but it is necessary to provide adequate time for planning the presentation.
The forms also will be available at the Ag Alumni Web site later this spring at www.ag.auburn.edu/alumni.html. For more information, contact Hensarling at 334-844-3596 or hensara@auburn.edu
---
Ag Classic Set for May 5-6
Spring is here and that means the CoAg's Seventh Annual Ag Classic is fast approaching! Plans are in place for an exciting event on May 5-6 that will include a wide range of events.
Ag Classic provides an informal setting for CoAg friends to return to Auburn for fun and fellowship with other alums, faculty and administrators. The central mission remains to strengthen support for the College and continue to build comradery.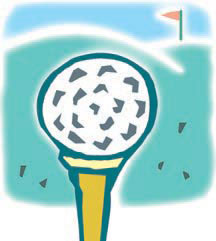 As usual, Ag Classic features three tournaments–sporting clays, golf and fishing–as well as a skills competition for golf. The schedule for each is listed below. Team and/or individual prizes will be awarded for each of the three tournaments and for the golf skills game. The fishing tournament, which is normally held on the same day as the golf tournament, has been changed to Wednesday morning, May 5, to avoid a timing conflict with those who want to participate in other events. Also new this year, anglers have the option to keep any bass over six pounds and any bass over nine pounds will be mounted!
April 27 is the deadline for registration. Teams will be accepted in order as registration is received and a waiting list started as each event fills. Note that credit card payments are now being accepted. So, complete the registration form and reserve your place now!
For more information contact Robert Hensarling at 334-844-3596 or hensara@ auburn.edu, or Katie Hardy at 334-844-1475 or katie@auburn.edu. To register online visit www.ag.auburn.edu/Ag_classic/.
---
Ag Classic Schedule
Wednesday, May 5, 2004
FISHING
North Auburn Pavilion, Auburn
7:00 a.m. Check-in
7:30 a.m. Tournament begins
SPORTING CLAYS
White Oak Plantation, Tuskegee, Ala.
11:30 a.m. Check-in
12:00 p.m. Lunch
1:00 p.m. Tournament begins
SOCIAL
North Auburn Pavilion, Auburn
5:30 p.m. Social
6:30 p.m. Dinner
7:15 p.m. Fishing and Clay Awards
7:30 p.m. Auction
Thursday, May 6, 2004
GOLF
Moore's Mill Golf Club, Auburn
7:00 a.m. Check-in
8:00 a.m. Tournament begins
1:00 p.m. Lunch
1:30 p.m. Golf Awards Presentation
---
Alumni Updates
McKinney Leonard Thomas, '39, a vocational ag major, died in Huntsville, Ala., on Feb. 4, 2004. Thomas was from New Hope, Ala., and after graduating from Auburn went on to be the agriculture teacher at Princeton, Ala., until he entered the Army in World War II. After service, Thomas worked with the USDA Soil Conservation Service (now Natural Resource Conservation Service) before going into a career in sales and interior decoration. He is survived by his wife, Lois Maples Thomas; daughter, Annewhite Fuller ('68), and stepchildren Dave Haskell and Nan Novotka.
Jerry Sibley, '61, recently retired from private business as Grassland Nursery, Inc., in Muscle Shoals, Ala., and lives part-time in Auburn and part-time in Mt. Hope, Ala.