AAES School and College News
The following is news from our AAES-affiliated schools and colleges. For more information on the teaching, research, outreach or development activities of any of these academic units, contact them directly at their respective phone numbers or Web sites.
---
---
Human Sciences Professor Named 2004 Graduate Faculty Lecturer
The Auburn University Graduate School has selected Jacquelyn Mize of the College of Human Sciences as the 2004 Distinguished Graduate Faculty Lecturer.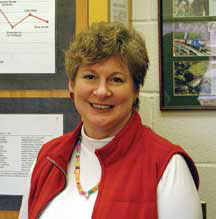 Professor Jacquelyn Mize
Mize, a professor in the Department of Human Development and Family Studies, received the award from the Graduate School in early April. A member of the AU faculty since 1984, Mize holds bachelor's and master's degrees from the University of Georgia and a Ph.D. from Purdue.
Mize's observations as a preschool teacher early in her career helped shape her studies and research in higher education. At Auburn, her primary area ofresearch has involved the relationship between social development of young children and their long-term well-being.
Mize and her graduate students have frequently examined aspects of child care, teacher-child and parent-child relationships and their influence on preschool children's achievement and motivation. Mize and her students also examine children's physical and behavioral responses to stress, social competence and transition to kindergarten.
Mize has directed more than a dozen dissertations and theses, and her research findings have been published frequently in peer-reviewed journals such as Developmental Psychology and Journal of Social and Personal Relationships. Also, she has been the principal investigator in studies funded by the National Science Foundation and the National Institute of Mental Health.
---
The Hotel at Auburn University Opens New Italian Restaurant, ARICCIA
The Hotel at Auburn University and Dixon Conference Center announces the opening of ARICCIA, a trattoria-style restaurant and bar. The restaurant is named for the ancient town of Ariccia (a-REE-chah), Italy, home of the international campus of Auburn University, College of Human Sciences. The city is located in the Castelli Romani region in southern Italy.
The ARICCIA menu consists of homestyle Italian dishes classically prepared with the freshest ingredients. "The ambience is casual, relaxed and comfortable," says John Russell, general manager.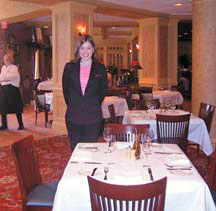 ARICCA offers homestyle Italian dishes in a casual yet elegant atmosphere at The Hotel at Auburn University.
ARICCIA is one of few restaurants in Auburn that offers patio dining. Located in the front of the hotel, the patio is shaded from the sun by trees and colorful Italian trattoria umbrellas where guests may enjoy breakfast, lunch or dinner. The dress code is comfortably casual. Guests will feel appropriately dressed whether in jeans and polo shirts or dresses and sports coats.
Chef John Hamme describes the ARICCIA experience as "the ultimate dining pleasure: authentic recipes made with the freshest ingredients. We offer exciting new flavor experiences as well as wonderfully familiar tastes, in an atmosphere that is conducive to the enjoyment of delicious food."
Hamme says the wine list is extensive and easy to use; wines–many of which can be enjoyed by the glass–are listed in a progressive format, with wines grouped by their tasting profiles, rather than by varietals or origins.
At breakfast and lunch, ARICCIA features one of the most varied buffets in the Auburn area, along with a la carte service. Breakfast features omelets, chef-prepared to individual order. At lunch, the chef tosses freshly made pastas with a variety of sauces and accompaniments. For the guest seeking breakfast or lunch on the run, the espresso bar brews and serves Starbucks coffee, opening early with cappuccinos, café lattes and selected Tazo teas. Morning items include freshly made muffins, croissants, breakfast pastries, bottled juices and water.
Other amenities offered include a beautiful mahogany bar with a fireplace, overstuffed sofas that invite a relaxed conversation with friends and private dining that will accommodate parties of 18 to 20.
ARICCIA is only a part of the renovation of The Hotel at Auburn University. New landscaping, wireless Internet access, lighting and sound systems are among the improvements, along with new linens and new bedding. The interior design of meeting spaces is being upgraded with a new look and is scheduled to be completed by July 2004.
The Hotel at Auburn University is managed by the West Paces Hotel Group L.L.C., where Horst Schulze is president and chief executive officer. Schulze is a co-founder and former president of the internationally renowned Ritz-Carlton Hotel Company. The Hotel also serves as a hands-on education facility to the College of Human Sciences' Hotel Program.
For more information on ARICCIA or The Hotel, call 334-821-8200 or visit the Web site at www.auhcc.com.
---
---
Four-Legged Athletes Get High-Tech Therapy
The scouting report says one weighs 37 pounds and can run like greased lightning. Another weighs 1,200 pounds and can out-muscle all competitors.
Have they signed anywhere yet? Probably not. These athletes are the four-legged kind, and they are utilizing physical rehabilitation and sports medicine at the AU College of Veterinary Medicine. The programs, which make sure animals are fit and healthy, often use the same equipment and principles that are applied to humans.
Orthopedic injuries–such as torn anterior cruciate ligaments, arthritis and fractures–are common in dogs. As in people, physical rehabilitation is part of the treatment offered by the orthopedic service of the veterinary teaching hospital.
"A vast majority of our patients are pet dogs," says Ron Montgomery, professor of orthopedic surgery, "but we also work with canine athletes seen by the college's sports medicine program."
The physical rehabilitation facility is similar to a human physical therapist's office. Therapeutic ultrasound, e-stim, whirlpools and other devices are used to help restore normal motion and minimize discomfort.
"Physical therapy has proven its effectiveness in humans over the last two to three decades," says Montgomery. "Now we are blessed to also be able to help man's best friend with physical rehab."
The biggest goal for Montgomery is to teach veterinary students and veterinarians already in practice how to do physical rehabilitation. "We are glad to treat dogs here, but if veterinarians in communities across the Southeast learn how to do physical rehab then many more dogs can be helped," he says. "A two-day program is available where we teach veterinarians how to do physical rehab, and there is corporate funding for the first 25 veterinarians who attend."
Athletic animals also get back in shape through sports medicine. AU's Metcalf Veterinary Sports Medicine Program, named after donor Dorothy Metcalf of Oxford, Md., is specifically designed for sporting dogs and horses.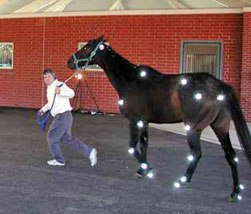 Rob Gillette uses reflective markers to record and digitally analyze a horse's movements.
"We know when a human suffers an injury because he will mention the pain, but an animal is stoic and will keep from showing pain," says Director Robert Gillette. "Prevention is best, but if an injury does occur, we can pinpoint the origin and treat it."
Canine athletes include pointers, retrievers, hounds and racing dogs, as well as stock dogs and search-and-rescue dogs. Horses of interest are from racing, cross-country and competitive riding.
In the future Gillette hopes to add a lameness diagnostic service where veterinarians or individuals can videotape their horse or dog and then send their tapes to the laboratory for a diagnostic evaluation.
The research aspect of the program seeks to optimize performance and career longevity. Studies include animal-specific nutritional programs, therapeutic regimens to minimize downtime and diagnose performance-related problems and proper exercise programs to prevent exercise-induced medical problems.
"Sports medicine directly benefits athletic dogs and horses, and in turn provides benefits to pets and farm animals that have the same type of injuries," Gillette adds.
---
---
SFWS Student Signs with the Washington Redskins
When Marcus Washington graduates from the School of Forestry and Wildlife Sciences (SFWS), he will be ready to start a new and exciting career–though he may have to fit it into his already busy schedule.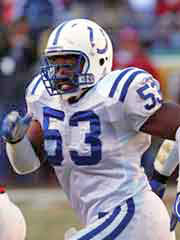 Marcus Washington
in action.
Washington is a professional football player–a standout linebacker–who recently reached a contract agreement with the Washington Redskins. Already a four-year veteran of the pros, Washington had played for the Indianapolis Colts and was regarded as one of the top 20 players in the unrestricted talent pool during the draft. His six-year contract with the Redskins is worth slightly more than $24 million. The contract includes a $7 million signing bonus and total bonuses of about $10 million in the first three seasons.
Washington, 26, is a former Auburn University star known for his skills as a "blitzer" and in coverage. He will graduate in 2005 with a degree in wildlife sciences.
---
Wal-Mart Executive Wins Governor's One-Shot Turkey Hunt
When Wal-Mart executive Bob Hart won the third annual Alabama Governor's One-Shot Turkey Hunt back in March, two School of Forestry and Wildlife Sciences (SFWS) students were in the audience with their own reasons to celebrate.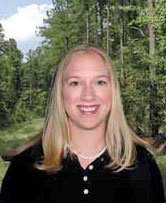 Carrie Johnson, is one of the first recipients of wildlife scholarship funded by the Alabama Governor's One-Shot Turkey Hunt.
SFWS students Jordan Smith and Carrie Johnson were celebrating along with Hart because they are the first recipients of a wildlife scholarship funded by the hunt.
Gov. Bob Riley hosted the celebrity event, which was held in Tuscaloosa and drew participation from top corporate leaders, industry prospects, sports celebrities and national outdoor media celebrities. Sponsored by the Alabama Conservation and Natural Resources Foundation, the hunt combines food, fellowship and friendly competition against the background of Alabama's great outdoors.
Hart was one of 74 hunters from 15 states to participate in this year's event. Among the business leaders and celebrities were Wal-Mart President Tom Coughlin, NASCAR driver Jeff Green, Lockheed Martin General Manager Joseph Glazner and country music star Troy Gentry.
Governor Riley touts it as an innovative mixture of business and recreation. "The Alabama Governor's One-Shot Turkey Hunt accomplishes three things important to our state," Riley says. "First, it enhances our state's image by putting Alabama in the global spotlight. Second, it helps strengthen relationships with existing Alabama industry leaders, and helps develop relationships with new industry prospects. Finally, it showcases Alabama as a preferred destination for hunting, fishing and other nature-based tourism–which is already a nearly $4 billion industry in this state."
The Alabama Governor's One-Shot Turkey Hunt also contributes to the future of wildlife management through the scholarship program that benefits students majoring in wildlife management at Auburn University.
Barnett Lawley, Foundation chairman, announced the results of this year's auction. "Through the generosity of sponsors and auction participants, over $114,000 was raised to benefit the Foundation, which funds the Lynn Boykin Wildlife Scholarship. This is an investment in education and an investment in the future of wildlife management. It is encouraging to know that many of America's top corporate and government leaders are hunters."
Hunting is big business in Alabama. In fact, Alabama ranks fifth in the nation in hunting-related retail sales. Hunters also contribute significantly to state and local economies. Estimates are that the Governor's One-Shot Turkey Hunt generated nearly $1 million to the local economy of Tuscaloosa and surrounding counties.
---
SFWS on the Air
The School of Forestry and Wildlife Sciences (SFWS) just finished creating its first television commercial, which is being aired nationwide on Outdoor Alabama, offered on the Outdoor Network. Numerous members of the SFWS faculty and staff were involved in creating the commercial. SFWS students Clay Tinney, Katy Myers, Darrel Downing, Rachelle Becker, Kim Subacz, Laura Robinson, Jonas Traywick, Roger Brown and Chris Nix all took part in the effort.
---
Two SFWS Graduate Students Chosen for Top 10
Two SFWS graduate students have been selected by a special committee of the Auburn University Graduate Council to be among Auburn's top 10 outstanding graduate students for 2003-2004. They are David Miller, a master's student majoring in wildlife sciences, and Maksym Polyakov, a Ph.D. candidate in forestry/economics. This selection credits the quality of the record these students have established at Auburn and reflects in an exceptionally positive fashion on their advisors and department.
---
---
Hartsfield Named Curator of Donald E. Davis Arboretum
A CoAg alumna is now in charge of one of Auburn's finest outdoor classrooms.
Christy Hartsfield has been named curator of the College of Sciences and Mathematics' (COSAM's) Donald E. Davis Arboretum located on the Auburn campus.
Hartsfield earned a bachelor's degree in entomology/integrated pest management and a master's in industrial design at Auburn. Before joining the Arboretum, she served as a visiting instructor in AU's College of Architecture, Design and Construction's Department of Industrial Design. She also worked with local horticultural businesses and has volunteered with the Lee County Master Gardeners Association and the Auburn University Forestry Ecology Preserve.
"To me, working at the Arboretum is the ultimate in being able to show what exists and what is beautiful about nature," Hartsfield says. "The Arboretum is a place of beauty, used for teaching, conservation and meditation, and it also offers many educational opportunities for Auburn students and faculty, as well as the entire Auburn community. It is amazing how many people love this place."
Under COSAM's direction, the Arboretum continues to thrive as one of the most beautiful classrooms on campus. With an extensive collection of native plants, an abundance of wildlife and an open-air pavilion, it is an ideal place for many types of education. Professors in botany, horticulture and forestry make use of the area with its display of nearly 200 different tree species.
The Arboretum is located only a few hundred yards south of the AU president's mansion on the corner of South College and Garden streets. For more information, contact Hartsfield at 334-844-5770.
---
Research Briefs
Flying in the Face of Blood-sucking Bovine Biters
Tiny horn flies that feed by the thousands on cattle and drain $1 billion a year from the U.S. beef industry soon could meet their match in the form of a novel livestock vaccine an AAES husband-wife research team has developed.
The vaccine that AU entomologists Ed and Mary Cupp are in the final stages of testing will immunize cattle against a salivary factor that biting horn flies inject into their prey to keep the victim's blood from clotting. The flies feed around the clock on cattle, causing anemia and weight loss, damaging hides and transmitting a bacterial agent that causes udder infections.
Currently, most livestock producers use insecticides to fight horn flies, but the pests quickly build up resistance to each new pesticide, making that a never-ending battle.
Once the Cupps have completed the final round of vaccine testing, Novartis Animal Health–a major funding source for the Cupps' project–will make the product available commercially.
Eventually, the Cupps' patented research could have major implications for human health, in that the anti-clotting agent could serve as a blood-thinner for patients prone to strokes.
---
Hittin' the Trails
Between now and the end of 2004, 12,000 or so all-terrain-vehicle enthusiasts from Alabama, Georgia and beyond will get their thrills on the challenging hills of the 22.5-mile Kentuck Off-Road-Vehicle (ORV) Trail in the Talladega National Forest. And while they're at it, they'll inject an estimated half-million dollars into the local economy.
But despite such recreational and economic benefits, Kentuck–or most any ORV trail, for that matter–does have a down side. Heavy traffic, dirt trails and steep terrain result in serious soil erosion, which mean frequent and costly trail repair and maintenance and excessive runoff of sediment into streams and rivers.
In search of solutions to ORV trail erosion problems, U.S. Forest Service (USFS) personnel responsible for the Kentuck Trail system turned to AAES biosystems engineers, who are in year one of a two-year project aimed at minimizing trail erosion and its subsequent polluting effects on nearby waterways.
The research team, led by biosystems engineering faculty members Tim McDonald and Jim Baier, began by studying the Kentuck system in detail, monitoring trail traffic and gathering extensive data on everything from determining which trail sections are most heavily eroded to measuring rainfall intensity and its impact on soil movement.
Meanwhile, at the Piedmont Substation in Camp Hill, where the soil is comparable to that at Kentuck, they set up simulated ORV trails of varying slopes to determine whether commercially available soil amendments are effective in stabilizing the soil and controlling erosion on trails. Extensive testing showed an acrylic copolymer called Envirotac II, when applied properly, works best in reducing erosion and minimizing the ecological impact of ORV traffic.
The researchers' next step is to test that material by applying it to erosion-prone sections of the Kentuck trail and monitoring how well it reduces erosion and the formation of ruts on the heavily used trail system.
Eventually the researchers will establish general ORV trail maintenance guidelines for managers of trails in Alabama and other Southeastern states. The USFS has published such guidelines, but they were developed for use west of the Mississippi and are not effective in the Southeast's climate and soil conditions.
---
The Canola Connection
A decade-plus of AAES research has shown that canola has strong potential as an alternative crop for Alabama farmers and one that could become more profitable than winter wheat.
The problem Alabama farmers face with canola, however, is that there currently are no canola-processing mills in Alabama or the Southeast.
That's where AAES researchers at Alabama A&M are focusing much of their efforts now, working with growers to recruit canola processing plants to the Southeast. If they're successful, golden canola fields could be appearing on Alabama's rural landscape.
An oilseed that Canadian plant breeders developed in the 1970s, canola is best known in its processed form, as a "healthy" and increasingly in-demand cooking oil that's low in saturated fat.
---
Making the Moooove to Grass-fed Beef
Of the millions of cattle sold for beef in the U.S. each year, the vast majority are readied for the market on grain diets at feedlots in the Midwest. But among U.S. consumers, and among cattle producers in Alabama, there's growing interest in what is known as grass-fed beef–cattle raised in open pastures and fattened on homegrown forages.
In response to the increased interest, AAES researchers are studying the feasibility of producing grass-fed beef in Alabama for the retail market. Their research runs the gamut from beef genetics to nutritional values of forages to the economics of production to marketing.
Producers interested in hearing the results of research being conducted at Auburn can attend a grass-fed beef field day the Department of Animal Sciences will sponsor May 14 from 8 a.m. to 4 p.m. at the E.V. Smith Research Center Beef Unit in Shorter and the Ham Wilson Livestock Arena on the Auburn campus. Speakers will discuss their findings related to forages for finishing beef, the economics of production, beef nutrition management, meat quality and nutritive value, genetic selection and marketing, and producers will have the opportunity to evaluate carcasses from grass-fed and grain-fed beef.
The event also will include tours of the new Meat Sciences Laboratory and Stanley Wilson Beef Teaching unit and of the Alfa Agricultural Services building.
The registration fee, which is $15 before May 7 and $25 after that, includes lunch. More information and a registration form are available online at www.ag.auburn.edu/~ckerth.
Grass-fed beef is developing into a strong niche market in the U.S. That's attributed not only to consumer concerns over the safety and quality of beef but also to health issues. Previous research indicates that grass-fed beef is high in omega-3 fatty acids, can reduce levels of "bad" cholesterol and contains about half as much saturated fat as beef from cattle raised in feedlots.
---
White-tailed Deer and Trailblazing Research
An innovative 430-acre outdoor laboratory that AAES wildlife ecologist Steve Ditchkoff is establishing in east-central Alabama will allow researchers to study white-tailed deer "in the wild" and solve heretofore unanswerable questions about the genetics and biology of North America's most abundant big-game animal.
Eight miles of eight- to 10-foot fence will enclose the AU deer lab, to be located inside the AAES's Piedmont Substation in Camp Hill. Researchers will regularly collect tissue and blood samples for genetic analysis and gather body and antler measurements from the estimated 100 deer that will freely roam the site.
The comprehensive information gathered will answer a broad range of questions, from what traits determine reproductive success and disease susceptibility to what long-term effects free-ranging deer have on forest regeneration and plant diversity.
Public and private funds are needed to make the proposed lab a reality. Ditchkoff says the initial fund-raising goal of $500,000 will be used to cover costs of building the fence and a central deer-handling facility where animals will be corralled for data collection.
For more info, go to www.sfws.auburn.edu/ditchkoff/research.htm.
---
Balking at Buying Online
Most retail Web sites are easier to navigate these days, and our fears over Internet security have eased, so why do we still balk at buying online? Our perceived risk that what we see won't be what we get, a survey conducted by AAES researcher Sandra Forsythe shows.
The AU consumer affairs professor is using survey results from two national samples of online consumers to develop a model explaining consumers' expectations and buying habits and predicting consumers' likelihood of buying online. The model could suggest that retail policies such as risk-free, no-cost re-turns could boost online shopping.
---
Around the AAES
President of Azalea Society of America Praises AAES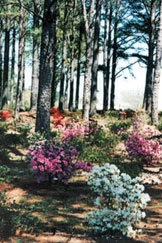 Azaleas in bloom at Camp Hill
Robert "Buddy" Lee, president of the Azalea Society of America, recently offered kudos to AAES work in a copy of the society's newletter, The Azalean.
Lee toured the AAES's Azalea Evaluation Project at the Piedmont Substation in Camp Hill in 2003 and sang praises to the project, while also encouraging further support of this effort.
The project, which will be featured in more detail in future issues of Ag Illustrated, began in 2000 and includes more than 4,000 azalea plants from different growers and breeders that are being evaluated for use in Alabama landscapes.
---
Chief Financial Officer for the AAES and College of Agriculture is named a SAM Fellow
Lane Sauser, chief financial officer for the AAES and College of Ag, recently was named a fellow in the Society for the Advancement of Management (SAM). The award was given during the SAM's 2004 International Business Conference held in Maryland in March.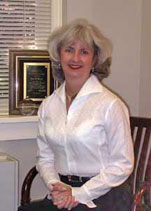 Lane Sauser
Sauser earned her master's degree in finance from Georgia State University and a doctorate in public administration from the University of Alabama. She is a licensed certified public accountant and holds certifications as a certified government financial officer and a certified government financial manager. In her role as a consultant, she assisted state and local governments to implement change in budgeting, financial management and operations.
An active member of SAM, Sauser currently serves on the editorial review board of the SAM Advanced Management Journal and is a member of the SAM International Board of Directors.
In addition to her work with SAM, Sauser has served in leadership capacities in organizations such as the Alabama Society of Certified Public Accountants, Association of Government Accountants, Government Finance Officers Association of Alabama and the AU Agricultural Alumni Association.
She has published numerous articles throughout her career, has been a part of numerous outreach technical assistance projects and has been involved in an impressive number of outreach workshops and conference presentations.
---
Taylor's Telling Testimony
CoAg agricultural economist C. Robert Taylor delivered the decisive testimony in a price-fixing verdict a federal court jury in Montgomery handed down against beef-processing giant Tyson Foods in February.
Testifying as an expert witness for the plaintiffs in the class-action Pickett v. Tyson/IBP Inc. lawsuit, Taylor provided explicit evidence that Tyson Fresh Meats, formerly IBP Inc., used contracts with a select few ranchers to create a captive supply of cattle and thereby drive down the prices paid on the cash market to independent cattle producers an average of 5.1 percent a year from 1994 through 2002. In actual damages, that is a loss of about $40 on every fed steer or heifer sold on the cash market by the 30, 000 producers represented in the suit.
Taylor, CoAg's Alfa eminenet scholar in agricultural and public policy, based his statements under oath on exhaustive statistical analyses he conducted on previously undisclosed internal financial records detailing the per-head prices IBP/Tyson paid to independent producers over the course of almost nine years.
The suit was filed in 1996 by six cattle owners in Alabama, Kansas, Nebraska, Montana and South Dakota, who contended that Tyson used large supplies of cattle illegally contracted outside market to manipulate cattle prices and that those practices were unfair, discriminatory, anticompetitive and in violation of the Packers and Stockyards Act of 1921.
Though the case is expected to be tied up in the appeals process for some time, Taylor says the verdict is a major victory for independent cattle farmers and ranchers and for consumers because it is a giant step toward reestablishing compensation in the nation's cattle industry.