Baseball and Betterment: CoAg Professor and Student Team Up to Help Fathers and Sons
By: Anna Pitts
Baseball great Jackie Robinson once said, "A life is not important except in the impact it has on other lives."
Matthew Davis of Wadley, Ala., found out firsthand how true that statement was when he enrolled in animal sciences Professor Donald Mulvaney's agricultural leadership development class last fall. Hoping this class would be a relief from the demanding course load of a junior in pre-veterinary medicine, Davis instead found himself working even harder–but for something more important than a good grade.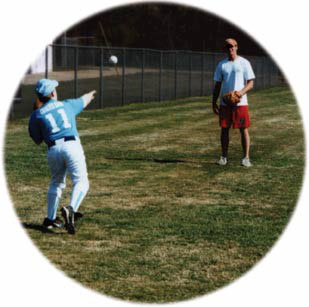 Andy Kanuse, DOT-B participant, & pre-vet student Matthew Davis practice.
In the leadership class, Mulvaney teaches his students that good leadership is effectively influenced through healthy relationships. Davis began playing baseball when he was 4 years old and has played all his life, including one year at Southern Union Community College in Wadley before coming to Auburn. Mulvaney challenged Davis to use his knowledge of baseball and his leadership skills to influence others' lives. The opportunity Mulvaney presented to Davis came packaged in the form of a baseball clinic focusing on building character in boys ages 6 to 13, as well as reinforcing leadership skills in dads while emphasizing the important role they play in the development of their sons.
The baseball clinic is called Dad's on the Ball, or DOT-B.
"In 1998, I was working on some material related to a leadership workshop called 'Vision of The Leader' which involved an analysis of the birth of a vision, the validation of a vision, the power for a vision and the tests of the vision," says Mulvaney. "It was in 1998 that the vision for DOT-B was birthed. This past fall, I took on the role of organizing a men's ministry at my church, and as that process progressed, DOT-B resurfaced as a ministry and became a reality."
A reported statistic on the development of young boys was the catalyst that showed the men's ministry at Providence Baptist Church in the Beaureguard community the direction DOT-B should go.
"A person's worldview appears to be established by 13 years of age and their moral foundation by age 9," says Mulvaney. "One's fundamental perspectives on leadership qualities of truth, character, integrity, life meaning, justice, morality and ethics are established early.
"Research indicates the spiritual beliefs are nearly irrevocably formed when people are preteens," he continues. "One of the most significant factors in the whole equation for boys is having a male role model, especially a dad, in their life during the ages of 6 to 12."
Each boy in the church was invited, along with his father, for two days of baseball. Boys who didn't have a father came with uncles, grandfathers or church deacons. Mulvaney also advertised the program community-wide–on local radio, distributing fliers and through notices to other churches in the area. Those efforts paid off when 40 boys and their dads came to play baseball at the clinic in early January.
For his part, Davis got local businesses like Wal-Mart and Lighthouse Christian Bookstore to help sponsor the clinic. He then organized the clinic into stations where fathers and sons would practice different baseball skills together.
Real life teaching methods were used to show the boys what good character traits looked like when applied in life. During the clinic, whenever someone was observed displaying a good character trait, attention was drawn to that person and he was praised for it just like when attention is given to someone catching a ball correctly.
"The character-building aspect was what set this apart," says Davis. "It was more personal, based on something bigger than just baseball."
During a session with just the fathers, Davis shared about the relationship he has with his own father. "My dad is my best friend and he's my hero. To be just like my dad would be great," says Davis. "I wouldn't want to disappoint him. He's made me want to be the best person I could be."
"Matt was a visible demonstration of character and baseball skills," Mulvaney says. "Boys are seeking role models, and Matt matched that need. For the dads, he also was a visible example of what a dad would hope their sons could become and the relationship they can have with their sons in later years."
At the end of the clinic each boy was given a chart with two character skills and two baseball skills to be practiced each day. One month after the clinic, all the participants returned for a reunion. This gave the boys about 30 days to develop good character trait habits, and to improve their baseball skills with their dads and male mentors. This system helped connect fathers and sons on a daily basis.
"Some dads drive home, see their sons every day and forget what a critical stage their sons are in," says Davis.
The investment of Mulvaney's and Davis' time and energy was reaped when one of the dad's told Mulvaney's pastor his life had been forever changed by the dadship skills he learned during those two days.
Davis says it would have been easier to have given Mulvaney excuses as to why he couldn't help with the clinic, but the opportunity to positively impact a family's life was incomparable. The seeds of good character and leadership these two men planted in the lives of these men and boys will continue to impact lives for years to come.
---
From the Field to the Ball Field: CoAg Faculty and Staff Volunteer Time as Coaches
By: Anna Pitts
When the clock at Samford Hall strikes 4:45 p.m. and CoAg faculty leave their offices for the day, several of them travel to a destination that will soon make them feel like a kid again–the ball field.
After working all day advising students, attending meetings, teaching class and conducting research, they spend the next hour and a half coaching sports for local children.
"It's a blast to be out there with them, and I really love the kids," says Joe Eakes, horticulture professor, who has coached baseball, basketball and soccer for 10 years. "I want kids to have a positive experience."
Boyd Brady, animal science Dairy Herd Improvement Association coordinator, assists Brian Anderson, an agriculture program assistant, with coaching T-ball. "It's a relief," says Brady. "Five and 6 year olds help you keep things in perspective." Brady has served on the Auburn Dixie Baseball/Softball Association for 16 years, with two terms as president, and has been highly instrumental in bringing the 2005 Dixie Youth World Series to Auburn. "I saw the benefits after my son played and I wanted to keep the program going for the kids," Brady says.
Sometimes, CoAg-coached teams play against one another, making for some friendly competition at work. Such an event happened when John Adrian, department chair of agriculture economics and rural sociology and a 30-year youth coaching veteran, took on animal sciences Associate Professor Frank Owsley's youth baseball team. Each coach has a slightly different version of what happened, but the story goes that due to a rainout, Adrian's team was given the win over Owsley's late-season, comeback team.
The satisfying experience of impacting young lives often extends from faculty members to their college students. Over the years many students have been involved with coaching as assistant coaches.
This is just one example of CoAg faculty who spend their valuable free time helping the community.
---
Bill Alverson Receives Sullivan Award
A basic guideline for the Algernon Sydney Sullivan National Award states that "In the selection of the recipients nothing shall be considered except the possession of such characteristics of heart, mind, and conduct as evince a spirit of love for and helpfulness to other men and women." Anyone who has had the privilege of working with CoAg Assistant Dean Bill Alverson knows that this gentleman is a perfect fit for the award.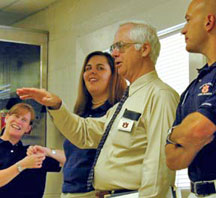 Bill Alverson's relationship with students exemplifies the Sullivan Award.
A native of Albertville, Ala., Alverson received his B.S. in agricultural science in 1965 and his master's of education adult education in 1971, both from Auburn. He began full-time employment with Auburn in 1965 as an Alabama Cooperative Extension Service (now System) farm agent in Lee County, working primarily with 4-H. From there, he moved to DeKalb County with Extension and his responsibilities changed to livestock and adult programs. In 1974, he returned to Auburn as assistant to the dean in what then was the School of Agriculture, Forestry and Biological Sciences. In 1983, his title was changed to assistant dean in what is now known as the College of Agriculture.
Throughout Alverson's career, he has worked with programs that have had a direct effect on people. This is particularly true since his return to the Auburn University campus. In his capacities as assistant to the dean and assistant dean, his primary responsibilities have been student advising and recruitment. Many readers fully realize that Alverson had an important influence on their education while they were students at Auburn University. In fact, without his constant care and encouragement, many would not have graduated. His never-ending devotion to his students and their success is a characteristic that clearly sets him apart from many others who work on the campus. He is never too busy to take time to listen to a student or parent and attempt to work out a solution to any type of problem that the student may be facing.
The Sullivan Award, which was established in 1951 by the New York Southern Society, is one of the most prestigious recognitions presented on the Auburn University campus. The memorandum from the organization that established the award states: "It is the purpose of the New York Southern Society to establish a permanent reminder of the noblest human qualities as expressed and followed in the life of the first president, Algernon Sydney Sullivan; and to do so in a manner which will perpetuate the influence of such a man, not so much as an individual but as a type...It is the desire of the Society that the Award shall be made only in recognition of fine spiritual qualities practically applied to daily living as distinct from high scholarship, athletic achievement, success in business, professional ability, political leadership, or mere worldly prominence in any calling. Nevertheless, by no means does the Society fail to realize that the highest spiritual and humanitarian qualities can be found in intimate and inseparable association with successful pursuit of all the above mentioned avocations."
In receiving this award, Alverson is added to a list of other great people who have served the Auburn University family such as Roy Sewell, Paul Haley, Dean Katharine Cater, Dean Charles Simmons, Kelly Mosley, Wilford Bailey and Boyd Scebra. Alverson is certainly a deserving addition to this list.
---
Our Washington Connection
It is obvious that the outstanding educational foundations offered by CoAg programs prepare students for a broad range of employment. Many do not realize that our students are a perfect fit for legislative assistant positions in Washington. This fact was clearly illustrated recently when Allison Thompson (bachelor's degree in agricultural economics, 2002; MBA, 2003) accepted a position as agricultural legislative assistant to Congressman Terry Everett. In taking this job, Thompson, replaced another CoAg graduate, Reece Langley (bachelor's degree in agricultural economics, 1997; MBA, 2000).
In this position, Thompson will help to ensure that Congressman Everett is well aware of all matters related to the issues being viewed by the House Agriculture Committee. Everett is vice chairman of the Subcommittee on Specialty Crops and Foreign Agriculture Programs and a member of the Subcommittee on General Farm Commodities and Risk Management.
Thompson has already hosted several groups from Alabama, including representatives from CoAg's Dean's Office, members of the ESCOP/ACOP Agricultural Leadership Program, individuals from the Council for Agricultural Research Extension and Teaching (CARET) and a delegation from the Alabama Farmers Federation.
Additional responsibilities that Thompson will handle in Everett's office will be associated with the preparation of briefs for committee hearings and mark-ups, responding to constituent concerns, monitoring activities of USDA agencies and giving briefings to any individuals and groups who desire to learn of the congressman's activities. In addition to helping Everett prepare for meetings and speeches, she will also represent Everett's office by presenting speeches herself at meetings and events as requested.
Thompson is the most recent illustration of how CoAg graduates are able to represent the population of Alabama through service in Washington, D.C. As indicated, she replaced 1997 graduate, Reece Langley. In the past, Steve Raby (bachelor's degree, 1982, and master's, 1984, both in agricultural economics) worked as chief of staff for Senator Howell Heflin before the senator's retirement. Fred Clark (bachelor's, 1983 in agricultural education; master's of agriculture, 1993) went to Washington in Senator Heflin's office and then became the state director for Senator Richard Shelby. Chuck Penry (bachelor's, 1986 in agricultural economics) went to Helfin's office as agricultural legislature assistant.