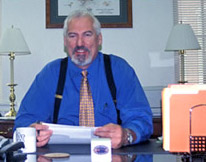 Professor Mike Weiss
Wow! That's the only word I can think of to describe what a great group of people, what a great place, what a great opportunity I have found here. Auburn agriculture is blessed to have such a dedicated faculty and staff, outstanding students, and a fantastic support group through our alumni and other stakeholders. My wife, Cindy, and I are truly honored to join the Auburn Family and we look forward to meeting and working together with all of you to continue the exceptional work already under way here.
I want to thank John Jensen and his wife, Marianne, for all their efforts over the past two and a half years in providing the necessary leadership to address the fiscal challenges that forced hard decisions. It was not an easy task, but with his energetic, upbeat, can-do attitude and with Marianne's support he was able to ensure that I inherited a well-run, fiscally balanced and great all-around College and Experiment Station. We all owe them both a great deal of thanks.
The students are back in even greater numbers. We have exceeded last year's enrollment and surpassed our enrollment goal this semester. Currently we have 874 undergraduates and 207 graduate students. I recently met with our Ag Ambassadors, our undergraduates who represent us and help us recruit students into our programs. I am very impressed with them and feel very good about our future with these young people at the helm.
I want to assure you that I take the responsibility that has been vested in me very seriously. In that light, I have been visiting units in the College and the Experiment Station to get a feel for the people who work there and the issues and challenges they are facing. As I have said many times, it is easy to suggest solutions to problems that you know very little about. But I want to help solve problems and position the College and the Experiment Station for the long run. Therefore, I will be using a tremendous amount of my time in the next couple of months learning all I can about both the College and Experiment Station. It is important to build on the momentum that all of you have started. In addition, we must continue to aggressively seek stakeholder–and "stakeholders" include faculty, staff, students, alumni and the public–into our decision-making process.
I look forward to meeting all of you and hope you enjoy reading this issue of Ag Illustrated and learning about all the great things going on in the College and in the Experiment Station.
WAR EAGLE!!!!!!!!!!!
–Mike Weiss, CoAg Dean & AAES Director