In Our Opinion. Extension System specialists have been voicing their opinions in the state's newspapers during recent months, which is helping increase awareness of issues and also Extension programs and projects. The following is an opinion piece that ran recently in several Alabama papers.
Putting Our Money Where Our Mouths Are
By: Samuel Fowler
No three people in Alabama better illustrate why we in Extension must transform ourselves to meet the needs of our changing audience than Tennessee Valley farmer Eugene Glenn and his sons, Don and Brian. A while back, they decided to abandon a one-size-fits-all approach to farming in favor of an entirely new system popularly known as precision farming space-age technology in which orbiting satellites help them apply farm chemicals with pinpoint accuracy.As they see it, they had no other choice. They knew that competing in an increasingly global economy would involve cutting operating costs even further–a fact that first attracted them to this new technique.
People like the Glenns have taught Extension a valuable lesson during the last couple of decades. They represent a new breed of highly educated, highly sophisticated farmers who are as comfortable surfing the 'Net as driving a tractor.
Explosive changes in farming forced them to think outside the box. To an increasing degree, they require expert Extension agents who have in-depth knowledge and expertise in a particular field–specialists rather than the generalists who have characterized Extension work in the past.
Just as they have been forced to think outside the box, so have we. Funding concerns have played a role our decision to transform ourselves from a primarily county-delivered program to one in which more services will be delivered on a regional basis by specialized agents. Even without these budgetary challenges, the dizzying array of changes brought on by the Information Age sooner or later would have prompted a radical change of mindset.
The challenges facing the Glenns are only some of many factors driving the need for a leaner, more adaptive Extension System. Another critical element has been the transformation of Alabama from a predominantly rural state to an urban state. But it's more complicated than that. Just as these demographic shifts have resulted in fewer farms, they have also altered the face of the rural landscape. In place of farmers, many rural areas are increasingly being populated and led by people who work in the city but who are nonetheless drawn to the slower pace of rural lifestyles.
They represent what is fast emerging as one of our most important audiences–people one or two generations removed from the farm who still have a passionate interest in wildlife and natural resources and who want to be good environmental stewards.
Much like the state's remaining farmers, they also tend to be well-educated and advanced information users who require expert agents–Extension agents with highly specialized knowledge.
The emergence of this new demographic group drives home yet another critical lesson: while we may be perceived as an information organization, we won't remain in the business very long if we don't address the increasingly high-tech needs of newly emerging audiences.
No, we can't compete with the Web's ability to provide people with massive amounts of information on a 24/7 basis. But we can do something the Web can't: help people sift through these large volumes of information, prioritizing it and putting it into context–adding value to it in ways that will enrich and even transform their lives.
Even as we transform ourselves from a county-delivered program to a regional program, we will not forego our mission or our century-old tradition of grassroots outreach. We will continue to operate an office and maintain a staff in every county where office space and funds are allocated, even as the regionally based approach will ensure that everyone has access to our programs regardless of how much funding is provided by specific counties. We will also continue improving ways to reach the thousands of limited-resource Alabamians largely sidetracked by the information age. Efforts such as our Expanded Food Nutrition Education Program and our Food Stamp Nutrition Education Program will continue to focus on ways to address nutrition, health education, childhood obesity and other pressing issues especially prevalent among this audience.
Transforming the way we deliver our programs does not imply that we are reinventing our mission. While we are trying to think out of the box, we are not exchanging one box for another. Neither our mission nor our reasons for serving the people of Alabama have changed–only the way we undertake this mission.
Samuel Fowler, who is spearheading Alabama Cooperative Extension System's reorganization efforts, is Extension associate director for rural and traditional programs.
---
Extension Food Scientist: It's Still the Little Things That Concern Us Most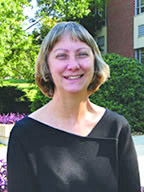 Jean Weese
For the last decade or so, Americans have tended to sweat the big things–another outbreak of mad cow disease or a terrorist attack on the food supply.
But could it be we're overlooking the little things that cause us the most harm–tiny food-borne pathogens, such as salmonella and listeria, that have plagued us for eons? One food safety expert answers that question with a resounding yes.
"If you're going to worry about anything, microorganisms are the thing to worry about," says Jean Weese, an Alabama Cooperative Extension System food scientist.
Pathogens such as salmonella, E. coli and listeria leave an estimated 70 million Americans reeling from vomiting and chronic diarrhea each year. In rare cases, they can even cause death–roughly 5,000 deaths in the United States each year, in fact–especially among immune-compromised people.
That's the bad news. The good news is that these rare cases of death associated with food-borne pathogens are likely to become even rarer as Weese and other scientists perfect new technologies designed to detect and eliminate these pathogens on food products. Weese, who is also an Auburn University associate professor of nutrition and food science, is working with other colleagues at the university to develop a biosensor to detect the presence of pathogens in food products.
---
Extension Launches Biodiesel Educational Initiative
Organizers of an educational initiative to raise public awareness about a farm-generated alternative fuel source believe it not only would contribute to a cleaner environment but also could provide a major boost to Alabama's farming economy.
That, at least, is the hope of Regional Extension Agent Mark Halland Huntsville Fleet Manager Celina Stone, who received a grant of $10,000 from the Alabama Soybean Commission to fund the initiative. The effort, titled "From Farm to Fleet," will teach municipal leaders throughout Alabama about the environmental benefits of using biodiesel in their transportation fleets.
Biodiesel is the name of a clean-burning alternative fuel produced from domestic renewable sources such as soybean and corn oils and chicken fat.
Among the farmers cheering loudest for biodiesel are the nation's soybean producers. That's because the fuel has the potential for creating new markets for soybean oil. Research has shown that the manufacture of 100 million gallons of biodiesel fuel would require 750 million pounds of soybean oil.
---
With Formosan Termites, No Worst-Case Scenario–Yet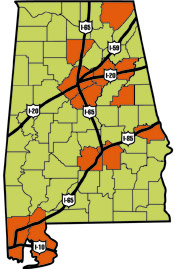 Formosan termite-infested countries along the five major highways
in Alabama
Experts say one of the worst-case scenarios involving the spread of the highly destructive Formosan termite into Alabama forests hasn't occurred–not yet, at least–but the fact the pests are turning up in increasing numbers in neighboring Missis-sippi woodlands is cause for concern and increased vigilance.
Since hiring on as an Alabama Extension entomologist in 2000, Xing Ping Hu has been tracking the spread of these voracious wood eaters throughout the state.
Hu says that, to date, Formosan termites are known to be active in 14 Alabama counties, even as far north as Cullman County. They are widely considered a tropical and subtropical pest.
Virtually all movement of Formosan termites is due to humans–uninformed people who unwittingly promote the spread of the pest through contaminated ornamental and nursery stock, landscaping timber and even soil.
One of the biggest challenges, Hu says, has been educating people about how easily they can contribute to the spread of these insects. Unfortunately, she says, this knowledge even eludes some pest control operators.
A handful of termiticides have been labeled for use on landscape trees. Two of these products, marketed under the commercial labels Termidor and Premise, can be applied into the soil around trees. Thus far, Formosan termite populations have proved impossible to eliminate once they have gained a toehold, but these two products are effective in reducing numbers.
For now, Hu says, all she and other entomologists can do is educate people about the risks in hopes of containing their spread.
---
Post-Geneva (Switzerland) Cotton Farming
If the World Trade Organization agreement recently concluded in Geneva, Switzerland, drives one point home to cotton producers, it is that they will have to strive even harder to become highly efficient, low-cost producers to compete globally, according to Robert Goodman, an Alabama Cooperative Extension System economist and CoAg associate professor of agricultural economics.
Under the agreement, the U.S., yielding to pressure from a coalition of developing nations, agreed to make a 20-percent cut in some of the $19 billion in subsidies it pays to corn, rice, wheat and soybean producers. In a special accord reached with four African nations, the United States also agreed to eventual cutbacks in cotton subsidies.
Goodman says the virtues that will matter most in the new global farm economy are timeliness, efficiency and good labor and machinery management. Farmers will also need to develop a keener understanding of financial markets, leveraging debt and reducing expenses.
---
Auburn Wildlife Scientists Taking Aim at Feral Pig Numbers
Two AU wildlife Extension scientists are zeroing in on feral pigs in hopes of identifying better ways to control the animals and keep the wild hogs from wreaking destruction on everything in their wake, from forestland habitat to gardens to other animals.
Mike Mitchell is participating in a federally funded research project that's focused on controlling feral pigs around Fort Benning, Ga., where the animals are destroying longleaf pine forests. Jim Armstrong, meanwhile, is conducting a similar study in Alabama's Lowndes County, where feral pigs are a serious menace to farmers' cornfields.