International Education in the College of Agriculture
By: Haley A. Wilhite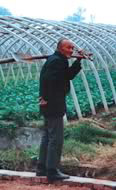 Auburn University is taking agriculture to an international level. Opportunities for international travel, learning, experience and course credit will soon be available for agriculture students.
Luther Waters, a professor of horticulture, is working to make this program available.
The program presents students, faculty and constituents of Auburn University with opportunities to study abroad through a developed program in international agricultural education.
Course credit can be earned while exploring a foreign land, breaking cultural barriers and establishing a largely beneficial international awareness. "Everything is this regard is life-changing for anyone who has never had an international experience," says Waters. "For somebody who's naïve about the rest of the world, going to England, Hungary, Chilé or South Africa for six weeks, they wouldn't come back the same person."

Agricultural faculty and staff will be able to share in research, teaching and outreach and expand their understanding and awareness of international issues. Academic programs and departments in agriculture will have the opportunity to develop equally beneficial collaborations that could involve students, faculty and staff exchanges with other universities in other countries.
Development of this international program is still under way, but collaboration with Myerscough agricultural college near Preston, England, may provide some solid opportunities for the study of landscape horticulture by next summer.
Professor of fisheries and director of International Center for Aquaculture and Aquatic Environments, Bryan Duncan, says the center has worked in more than 100 countries with research, educational training and extension outreach projects. He strongly believes that a structured credit-based program will increase the number of students interested in international travel, study and work. "It's not easy to get students involved now because of the cost, the timing and student's interest," says Duncan. "A structured program would allow for more careful planning."

The advantages of a program such as this are abundant.
In a global society such as ours, international awareness is beneficial in both a professional and personal sense. And employers tend to give preference to those who have international experience and can work successfully with other cultures.
A well-organized, structured and credit-based set of options for this type of international learning experience will give the College of Agriculture a competitive edge.
Finally, many institutions around the world and supporters of the college of agriculture are mutually interested in efforts to form long-term educational relationships.
Participants in the program will be expected to obtain a comprehensive understanding of the history and geography of the visited region, have an understanding of the system of government in the visited region, build social relationships with those in the area and learn any anticipated challenges the area will face in the future.
The program, says Waters, when fully developed, could range from general study with a length of from five to eight weeks, a specific matter study from four to six weeks or internships lasting months. The number of participating students could be a maximum of 20 to 25, but would depend on the host situation.
Other possible opportunities include study in approved courses at a foreign institution, work or study with academic or commercial organizations, short study tours, self-designed study, combination programs conducted at Auburn University with a foreign institution and finally a possible minor in international agriculture.
Deborah Weiss, assistant director of international education at Auburn, is working alongside Waters to get this program into full swing. The international education office provides the traveling students and faculty with pre-departure preparation, orientation and guarantee of course credit.
Weiss said that the individual students work to find support for international travel, usually looking to local organizations like the Rotary Club for scholarships. Other general scholarships, such as the National Science Education Program, can also provide support to the students who wish to take part in an international program. PACT, a prepaid tuition program, can also be used now to study abroad. Two donors, Waters says, have made significant contributions. Auburn alumni Bill Stallworth and E.T. York have donated to international agriculture endeavors.
The cost of each international education opportunity varies depending on the destination, the studies, the number of students, the faculty participating and the host situation but it is all well worth it.
"These programs begin to address, in a small way, the global understanding that is so prominent in our society today," says Waters.
More information about Auburn University study abroad can be found by visiting the Office of International Education Web site at www.auburn.edu/academic/other/international_education/