Ag Heritage Park Update
By: Robert Hensarling, Ag Heritage Park Director
Construction plans for several Ag Heritage Park elements are in the works for this fall. Groundbreaking for the Alfa Pavilion was held in August, and the Alabama Building Commission currently is reviewing the pavilion plans. Once the commission OKs the plans, we should be able to bid this project within two weeks, and construction should still begin this fall. Additionally, the schematic drawings for the replication of the Red Barn are under review and were scheduled to be returned for final completion by the middle of September.
We are currently pursuing a U.S. Army Corps of Engineers Nationwide Permit 39, which will confirm that the pond project will have no impact on wetlands and authorize construction to begin on the pond. The pond element is a key component not only for Ag Heritage Park, but for campuswide watershed enhancements. The pond will serve as the receiving basin for more than 95 acres of campus.
Below the pond, we will construct a wetlands experience that will become a critical environment where native plant species can thrive. The constructed wetland will be part of a broader project, tying directly into Parkerson Mill Creek waterway that meanders through campus. It is extremely important that both the Ag Heritage Park project and the Parkerson Mill Creek water blend together to enhance the overall campus watershed. As we move forward with the critical watershed components within the park, so does the restoration of the Parkerson Mill Creek waterway. (See related story "Restoration of Parkerson Mill Creek on the Auburn University Campus.")
---
Alfa's Contributions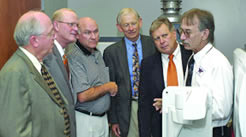 Pictured, from left, are AU Interim President Ed Richardson, Alfa Farmers President Jerry Newby, Alabama Cooperative Extension System state water quality coordinator Jim Hairston, Alabama Cooperative Extension System Interim Director Gaines Smith and John Jensen, former interim dean and director of the AU College of Agriculture and AAES.
Following formal dedication ceremonies of the new Alfa Agricultural Services Building at AU in July, Hamp Bryant, right, manager of the soil testing lab now located in the facility, explains some of the sophisticated lab equipment to visitors.
The 24,000-square-foot building–which houses the soil testing and plant and fescue diagnostic laboratories–was made possible through a $5 million gift from the Federation's board of directors. That same day ground also was broken a new Alabama Farmers Pavilion to be built at Ag Heritage Park with a $500,000 gift from Alfa and the Federation.
---
Restoration of Parkerson Mill Creek on the Auburn University Campus
By: Cliff Weber
The open-channel portions of Parkerson Mill Creek on the Auburn University campus are experiencing major erosion of banks in many reaches. In other areas of the stream, invasive plants such as kudzu and privet hedge cover the riparian areas.
Recognition of these problems prompted AU officials in 2003 to appoint a special committee to study the feasibility of restoring these open-channel stretches, also called "reaches," and creating natural open space along the stream corridors, complete with walking and biking trails. This committee consisted of AU faculty, state agency personnel and Auburn city's environmental engineer.
The AU campus master plan approved by the Board of Trustees in 2002 called for just such preservation of the stream corridors on campus. This past winter, the AU committee hired an engineering firm to evaluate the potential for restoring reaches and to make cost-based recommendations on stream restoration strategies, vegetated buffer enhancement, greenway installations and stormwater management to improve the quality, function and aesthetics of these streams.
The study area on the AU campus includes about 10,000 linear feet of perennial stream channels surrounding vegetated buffers and stormwater outfalls. Most of the stream is within the Piedmont physiographic province in the Lower Tallapoosa watershed. The feasibility study divided the perennial channels into 10 reaches–continuous stretches or expanses of the stream–recommended for restoration. This would restore reaches from headwater areas on campus to the southern portion of the campus at Shug Jordan Parkway.
The study estimated the total cost of restoring all reaches and installing storm-water management structures at more than $1.2 million. Funding to date includes a grant from the United States Environmen-tal Protection Agency, contributions from the AU athletic department and the College of Agriculture and a donation of in-kind services from a local developer. That is sufficient to restore about 800 of the creek's 10,000 linear feet.
Benefits of a stream restoration will include a natural meandering channel with improved stream habitat (riffle/pool sequences) and a floodplain that reduces bank erosion. New vegetation planted along the banks and stream edges will also reduce in-channel erosion and improve the appearance of the stream. These improvements will also create good habitat for fishes and aquatic invertebrates that inhabit streams. In addition, several stormwater management structures will be located along the stream corridor to improve water quality as runoff occurs into the channel.
An engineering firm will now begin working on the design phase for the restoration. Once the AU Board of Trustees has approved design plans, a construction firm will be employed to do the work for which funds are available.
We continue to look for additional funding to continue this process until all open -channel reaches have been restored and greenways have been constructed along the stream.
For information on how to contribute to the Parkerson Mill Creek restoration project, contact me at 334-844-9124 or webbeec@auburn.edu.
Weber is chairman of the Parkerson Mill Stream restoration committee.
---
Turfgrass Scholarship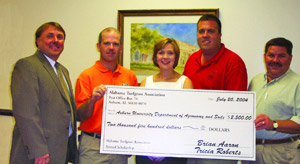 The Alabama Turfgrass Association (ATA) recently signed an agreement establishing the ATA Annual Scholarship in Agronomy and Soils at Auburn University. The $2,500 scholarship will be presented annually to a student majoring in agronomy and soils, with preference given to individuals enrolled in the turfgrass management program.
Mark Wilton, left, AU College of Ag development officer, accepts the gift from ATA officials, from left, Brian Aaron, Certified Golf Course Superintendent, of Mobile, president; Tricia Roberts of Auburn, executive secretary; Kevin Goolsby of Destin, vice president; and Randy Bodine of Auburn, treasurer. The recipient of this year's scholarship is Daniel O'Brien, a junior turfgrass management major.
---
An Equine Donation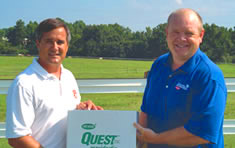 David Pugh, below right, a representative of Fort Dodge Animal Health, presents a box representing a substantial donation of vaccine and dewormer for AU's equine program to Greg Williams, supervisor of Animal Sciences' Equine Unit and coach of the AU equestrian team.
The Fort Dodge donation is not just a one-time shot: It's an ongoing supply of the products, enough to regularly treat the 55 equestrian team and teaching horses under Williams' watch. Williams says the donation will bring significant savings to the unit.
Fort Dodge is a leading manufacturer and distributor of prescription and over-the-counter animal health care products for livestock and companion animals. Before joining Fort Dodge, Pugh was a professor in the College of Veterinary Medicine's Large Animal Teaching Hospital.
---
Seventh Annual Ag Classic Coming Up Soon
Spring is here and that means the CoAg's Seventh Annual Ag Classic is fast approaching! Plans are in place for an exciting event on May 5-6 that will include a wide range of events.
Ag Classic provides an informal setting for CoAg friends to return to Auburn for fun and fellowship with other alums, faculty and administrators. The central mission remains to strengthen support for the College and continue to build comradery.
---
Ag Hill Calendar on Sale!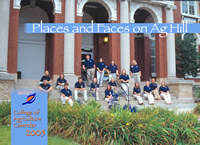 For the first time in recent history, the College of Agriculture has its own calendar–a 12-month compendium of dates and details of interest to CoAg students, faculty, alumni and friends. The calendar, which costs $12, features the faces and places of Ag Hill and can be purchased by calling 334-844-2345 or go online to www.ag.auburn.edu and click on the Marketplace button. Proceeds from the calendar sales will go toward CoAg club activities and a new farmers' market, which is being developed at Ag Heritage Park.