AAES School and College News
The following is news from our AAES-affiliated schools and colleges. For more information on the teaching, research, outreach or development activities of any of these academic units, contact them directly at their respective phone numbers or Web sites.
---
---
AU Students, Faculty Helping Fight Hunger
The World Food Programme (WFP), one of the world's largest humanitarian agencies, has selected Auburn University to establish a worldwide model for a student-led "War on Hunger."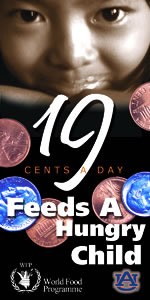 CHS is providing a model to increase awareness of global hunger.
The WFP, a Rome-based United Nations (U.N.) organization, asked Auburn University to establish a model that other colleges throughout the nation can use to increase awareness of global hunger and poverty. The agency assists 80 million people in 80 countries with feeding programs, reforestation projects and infrastructure improvement.
An AU student organization, the Committee of 19, kicked off its campaign on Aug. 26 with a "hunger banquet" to illustrate the plight faced by 800 million people around the world. During the "banquet," 55 percent of participants received a single tortilla for their meal, 30 percent ate beans and rice and the remaining 15 percent were served a three-course meal. "This is a monumental cause that has excited a lot of students," says Student Government Association President Bradford Boney, who is chair of the Committee of 19. "This is the first time that students on any campus have organized to help the United Nations in its fight against world hunger, so we want to make as much of an impact as we can."
The "banquet" was the first in a series of activities at Auburn to draw attention to the plight of millions who are unnoticed by much of the developed world, according to June Henton, CHS dean and first point of contact for Auburn's pilot program.
"Hunger is not about an inadequate food supply, but about social inequities, conflict and war, political issues and other factors that prevent people from having access to food," Henton says. "We all know that hunger is a massive and complex problem. It is essential that students also understand that hunger is interrelated with many of our own national issues, such as peace and security, health care and the environment.
"Hunger is a critical concern that must be addressed in our pursuit of a sustainable world, a world that protects the natural environment and enhances human health and well-being for present and future generations."
Auburn's initial contact with the U.N. agency came through CHS, which presents its International Quality of Life Award to a global leader each year in a ceremony at the U.N. headquarters in New York.
Henton believes the timing is right for a student movement against one of the world's most daunting challenges because of a marked resurgence of student interest in world affairs.
"Students are looking for ways to make the world a better place, and they are responding enthusiastically to this call to action," Henton says.
Auburn's Committee of 19 takes its name from a World Food Programme request that donors contribute 19 cents a day to help feed a hungry child in any of the world's poorest nations.
The student campaign was officially launched at a benefit concert on Oct. 15 featuring "Nashville Star" winner Brad Cotter, an Opelika native. The concert was followed on Oct. 16 with a ceremony at the AU vs. Arkansas football game.
After two years, organizers say, they will document the Auburn "War on Hunger" model in a report that other colleges and universities can use as a template for hunger initiatives on their own campuses and communities.
---
The Italian Connection: CHS@AU in Italy Program Leading to International Collaborations
What connection does the Auburn University College of Human Sciences have with a 17th-century Italian palace? The linkage comes in the form of CHS@AU in Italy—a semester-long study-abroad program that provides a unique and multifaceted educational experience set amid Italy's history and culture.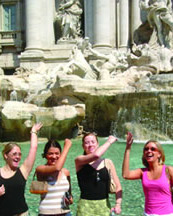 Student participants in the 2003 CHS Italy program
The Palazzo Chigi in the Roman hilltown of Ariccia (which is located outside Rome) serves as the program's academic home. For hundreds of years, this historic landmark housed one of Italy's most powerful papal families. The Chigi Palace, which now operates as an award-winning museum, is filled with centuries of art treasures, most notably from the baroque period.
The CHS Italy program is open year-round to all qualified Auburn University sophomores, juniors, seniors and graduate students on a space-available basis.
Taught by Human Sciences faculty, participants pursue an integrated course of study that examines quality of life issues affecting individuals, families and communities from a global perspective.
Special program features include lectures, day trips and overnight study excursions led by Italian experts in fields such as art history, architecture, Italian history, European economics, Italian cinematography and literature, social policy, education and current events. The full-semester program culminates in the completion of the international minor for undergraduates or an individualized course of study for graduate students.
A member of the College's International Board of Advisors opened the door for CHS@AU to establish an overseas campus. He introduced Human Sciences Dean June Henton to Ariccia's mayor, town council members and the curator of the Palazzo Chigi, all of whom had voiced an interest in recruiting an American university to operate a study abroad program in their community.
The opportunity seemed too perfect to refuse.
"An international focus is primary to our academic mission," says Henton. "The Italy program is the latest and most ambitious initiative we have launched to ensure that awareness of other cultures, openness to new ideas and knowledge of global issues permeate all of our teaching, research and outreach programs."
CHS@AU in Italy was piloted for six weeks during summer 2002. It is now in its fifth full semester following the pilot, and CHS is the only unit on AU's campus with its own permanent campus abroad.
The inaugural group of students and faculty enthusiastically returned to campus and worked with the College's administration to refine the program and recruit future participants.
"It has been such an eye-opening semester to live in another country, among a culture so different, yet so similar in many ways, to the one I am used to back home," said CHS student Liz Woodall, who spent this past summer in Italy. "This summer has broadened my perspective of the world I live in. I appreciate the opportunity that the College of Human Sciences has made possible, and I look forward to bringing this experience back to the Auburn campus."
For more information on CHS@AU in Italy, contact Dorothy Cavender, CHS associate dean for Academic Affairs, at 334-844-4790 or dcavebder@auburn.edu. To read the students' weekly accounts of their experiences in Italy, visit the CHS Web site at www.humsci.auburn.edu.
---
Kudos for CHS Faculty, Students
Greg Pettit, professor of Human Development and Family Studies, was recently named Human Sciences Professor of Child Development.
Prentice Hall publishing company is endowing an award for the Society for Marketing Advances in the name of CHS Professor Michael Solomon. The first "Michael Solomon Best Paper in Consumer Behavior Award" will be given at the society's meeting in November.
Susan Hubbard, CHS professor of consumer affairs, received the 2004 Pam Sheffield Award for commitment and service to AU.
Kirsty Coventry, a CHS student, won three Olympic swimming medals, including a Gold.
---
---
AU Vet Med Students Win in National Health Care Competition
Three Auburn University students teamed up to win first and third places in a national health care competition sponsored by the U.S. Department of Health and Human Services. They accepted the honors this summer in Washington, D.C.
College of Veterinary Medicine (CVM) sophomore Joni Lindquist of Tompkinsville, Ky., won first place in the 2003-2004 Secretary's Award program, single discipline category, for her proposal, "Shocking the Hearts of Rural America." It proposes placing defibrillators in veterinary clinics and on veterinary ambulatory trucks so heart attack victims in rural areas can have access to more immediate emergency care.
"Placing a traveling defibrillator with a veterinarian who knows the back roads would increase the access of rural citizens to quality health care and it would reduce response time," says Charles Hendrix, CVM professor and the students' adviser.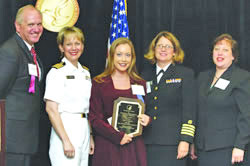 Joni Lindquist won first place in the single discipline category. Pictured, from the left, are Dr. Charles Hendrix, AU College of Veterinary Medicine; Capt. Penelope Royall, deputy assistant secretary of health; Lindquist; Capt. Kerry Nessler, associate administrator for health professions; and Lynn Wegman, director of state, community and public health.
Sarah Musulin of Gainesville, Fla., a member of the 2004 veterinary class, and AU nursing student Elizabeth Steeley of Scottsboro won second place in the interdisciplinary category for their paper, "Walk, Wag and Smile: An Interdisciplinary Exercise Program Highlighting the Human-Animal Bond through Dog Walking." The proposal encourages veterinarians to suggest a mild to moderate walking program to reduce obesity in overweight clients with overweight dogs.
Its objective is to increase the number of adults who exercise regularly for at least 30 minutes per day.
"Encouraging people to use a pedometer while walking 'man's best friend' has the potential to reduce obesity in many of our nation's citizens and their pets," Hendrix says.
The students also submitted their papers for the national Hill's Public Health Award, sponsored by Hill's Pet Nutrition. Musulin and Steeley took first place in this event, and Lindquist captured third place.
Since 1999, Auburn students have placed eight times in the Health and Human Services competition, bringing home more than $32,000 in awards money.
---
Veterinary College to Receive $1.5 million for Shelter Medicine Program
The College of Veterinary Medicine (CVM) will receive $1.5 million over the next six years from the national Maddie's Fund foundation to create and support a comprehensive shelter medicine program.
The foundation has awarded Auburn a first-year, $250,000 grant to establish the program and will give $250,000 a year for the following five years.
"This generous support will allow us to create a shelter medicine clinical rotation and a new ambulatory service in which our students will visit animal shelters for on-site consultation, diagnostic support and teaching," says Brenda Griffin, CVM assistant research professor who will direct the program at Auburn.
In addition to the new clinical rotation, three core classes will include lectures on shelter medicine topics, such as the veterinarian's role in animal sheltering, infectious disease epidemiology in shelters and strategies for pet population control.
"We are very excited about it and are greatly appreciative to everyone with Maddie's Fund for selecting Auburn for the new venture," adds Timothy Boosinger, AU veterinary dean.
The new program will be designated Maddie's Shelter Medicine Program in honor of Maddie, a miniature schnauzer that died of cancer in 1997. She had been the companion of a California couple who, after Maddie's death, started the foundation to help all dogs and cats have quality lives.
The shelter medicine aspect of Maddie's Fund emphasizes non-lethal controlling of the pet surplus through humane strategies for pet population control.
"We look forward to collaborating with Auburn to improve the lives of shelter pets, decrease shelter deaths and increase animal adoptions," says Laurie Peek, veterinary consultant for Maddie's Fund. "We hope to create a pool of shelter veterinarians who will practice in this emerging field and bring an awareness of shelter issues."
Veterinary students at Auburn can also apply for Maddie's Summer Fellowships to research shelter medicine topics or choose from a variety of shelter medicine electives, such as animal behavior or issues surrounding feral cats. Maddie's Fund will also help Auburn offer postgraduate resident training, non-lethal shelter medicine research and continuing education for private practitioners.
---
College to Host J.T. Vaughan Equine Medical Conference
The College of Veterinary Medicine (CVM) will host its first annual J.T. Vaughan Equine Medical Conference for the Practitioner on Nov. 5-7. More than 18 continuing education credit hours will be available for veterinarians in the study of equine neurology and lameness.
Tommy Divers of Cornell University, an internationally renowned equine internist, will be the guest speaker. Auburn University speakers will include AU veterinary faculty members Earl Gaughan, Reid Hanson, Joel Lugo, John Schumacher, Allison Stewart and Bryan Waldridge.
The format will be four sessions over the weekend, each with two hours of lectures followed by two hours of wet labs. Individual lectures will be 20 minutes followed by 10 minutes of discussion.
The conference is named for Tom Vaughan, former CVM dean and an internationally recognized equine surgeon. He will kick off the conference on Nov. 5 with his lecture, "History of the Horse."
For more information, call 1-800-483-8633 or 334-844-3699.
---
---
Toomer's Corner Oak: Grow a Piece of Auburn Tradition
Homecoming 2004 was destined to be special for some Auburn supporters. They picked up a literal piece of the Auburn tradition—a seedling grown from the Toomer's Corner oak.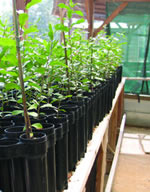 Seedlings from the Toomer's Corner oak
The seedlings, which are about 18 inches tall, can be purchased for a $50 donation per tree to the School of Forestry and Wildlife Sciences (SFWS). Money from the sales will be used to fund SFWS club activities and scholarships.
The idea of growing and selling the seedlings first took root when SFWS Dean Dick Brinker and other faculty and staff members were trying to find new ways to involve students and also fund student activities.
Proceeds from the trees will be used to fund scholarships and also to sponsor SFWS student organizations' involvement in national and state professional conferences. For several years, SFWS has sponsored three clubs: the Wildlife Society, Forestry Club and SFWS Student Government Association.
Another motivation for selling the oaks was the state of the current Toomer's Corner oak. The tree is old, under stress and, as is only natural, will eventually die. It is the hope of SFWS sponsors that the Toomer's oak could be replaced with one of the seedlings. In fact, they are holding several of the trees in order to grow them into larger trees for eventual planting for special purposes. And, by selling offspring of this tree, the students are helping preserve part of the history of Auburn—and make history in the process.
For more information on the Toomer's oak program, or to order your own oak, visit www.sfws.auburn.edu/sso/oaks.
---
---
COSAM Professor Wins National Award
The American Society of Plant Biologists recently presented College of Sciences and Mathematics biological sciences professor Joe H. Cherry the Charles Reid Barnes Life Membership Award for his more than 43 years of excellence in research, teaching, mentoring and professional service to the plant biology community.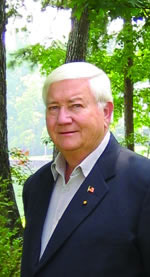 Joe H. Cherry
The award is the oldest and most prestigious honor given by the society. It is presented each year in recognition of a biologist's meritorious work and dedication to the society.
"Joe Cherry's award speaks well of a professor who has made significant contributions throughout his career to his students, to the University and to the plant biology community," said Jim Barbaree, chair of the Department of Biological Sciences.
"In addition, the award is a reflection of the quality faculty and research we have within the COSAM and throughout the university."
A past secretary and president of the American Society of Plant Biologists, Cherry's leadership was instrumental in the emergence of the society as the strong international organization supportive of plant science research and education that it is today.
An excerpt from the Society's awards program stated that Cherry "provided the leadership and stewardship that modernized the Society with professional management, making it the force it is today for its members. Professor Cherry has served his students, his colleagues, and the community with devotion and vision, providing that essential 'activation energy' that makes a difference at every level."
Cherry joined the Auburn University faculty in April 1989 and served as head of the Department of Botany and Microbiology until 1994. While the department head, he headed the Life Sciences Building Committee. Since 1994, Cherry has taught general and plant biology while continuing his research on environmental stress' impacts on plant growth and productivity. In relation to Cherry's research interest, he has organized three world conferences—in England, Italy and Poland—on the biochemical and molecular genetics of abiotic plant stress tolerance. The North Atlantic Treaty Organization supported all conferences.
---
Around the AAES
River of Words Continues to Flow: 2004 Winners Named; 2005 Plans Announced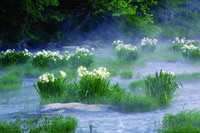 Photo of the Cahaba River by Beth Maynor Young
Last year, Alabama launched a River of Words (ROW) program. Response was exceptional and this year the program is being expanded even further.
ROW, a National Center for the Book–affiliated international contest, encourages young people to translate environmental science into art and poetry. ROW is designed to promote environmental awareness, literacy and the arts among the world's children and youth.
Though ROW was founded in 1995, this was the first year Alabama participated in the contest. All public, private and home-schooled students in the state were eligible to enter ROW, which is cosponsored in Alabama by the Alabama Center for the Book, the Auburn University Environmental Institute (AUEI), the AU College of Agriculture and the AU Libraries. According to Jay Lamar, director of the Alabama Center for the Book, organizers were extremely pleased with the response to Alabama inaugural ROW contest. "More than 300 students in grades kindergarten through 12 submitted entries," says Lamar. "We are excited that there was so much interest in the program and hope that even more students will participate in 2005."
The program is certainly gaining support throughout the state, and this year ROW has an official artist spokesperson: acclaimed nature photographer Beth Maynor Young of Birmingham.
Through her moving, often haunting photographs, Young has spent most of her life chronicling the natural beauty and remnant wild places of the southern United States. She worked as a staff photographer for the magazine and book division of the Southern Progress Corporation, publishers of Southern Living Magazine. She later turned her attention to a book, Everyday Flowers , published by Longstreet Press in 1990. Young now operates Cahaba River Publishing, a business dedicated to photographing the remnant wild places of the southeastern United States in a manner that creates a visual identity for the region.
"We are so pleased that Beth has agreed to be our spokesperson for River of Words," says Lamar. "Her photographs capture the beauty of Alabama's rivers and other wild places in the South with exceptional clarity, depth and with a sense of magic and wonder."
In her role as ROW spokesperson, Young will speak to groups about her photography and how it helps to raise awareness about rivers. She also will discuss ROW and water conservation issues and programs. In addition, her work will be featured in art shows throughout the state and region, and she will help make the awards for the 2005 winners.
Photography is certainly one of the art forms that can be submitted to the ROW contest. In fact, it was a photographer who won the 2004 Alabama ROW contest last spring. Sarah Elizabeth Rogers, then a senior at Bradshaw High School in Florence, was Alabama's first national winner with a photograph she submitted in the art section of the contest. Her photo, entitled "The Unlikely Pond," received an honorable mention from the national ROW selection committee.
For more information on Alabama's ROW program, visit or call the Alabama Center for the Book at (334) 844-4946 or AUEI at 334-844-4132.
---
Byron Wallace Loses Battle with Leukemia
Byron F. Wallace, 34, supervisor of the AAES Plant Science Research Facility on the Auburn campus, died Aug. 20 after a long battle with leukemia.
A Kinston native, Wallace began his employment at AU as a student worker at the Plant Science Research Center (PSRC) under the supervision of Charles Elkins in August 1991. Wallace had transferred to Auburn after receiving an A.S. degree from Lurleen B. Wallace State Junior College to pursue a bachelor's in agronomy and soils. He was one of three student workers under Elkins who played a significant role in the setup and establishment of the Plant Science Research Center.
Wallace remained at PSRC as a student worker until his graduation in 1994. He accepted a position in the Tennessee nursery industry, where he remained until returning to Auburn as greenhouse supervisor for the PSRC in June 1996. He served in this capacity until his appointment as PSRC superintendent in 2001.
He was pursuing a master's degree in horticulture at the time of his death.
"In all that he did, Byron was dedicated to the pursuit of excellence," says Jim Bannon, AAES director of outlying units and both a friend and colleague of Wallace. "He executed his job responsibilities in a meticulous manner and always maintained good rapport with faculty and staff. He cared about all those he worked with and especially those under his direct supervision. He was patient in giving advice and training students and faculty in greenhouse techniques and practices."
Byron resided at the Alpha Gamma Rho chapter house, where he served as resident adviser. While there he counseled many of his brothers on proper study habits, time management, leadership and other areas that contribute to the success of students.
"He was instrumental in starting and maintaining a morning Bible study each semester," says Bannon. "He was revered and respected as a friend, brother and adviser and he will be sorely missed by all who knew him."
Wallace is survived by his mother, Sharon Meek of Elba; two stepbrothers, Shane Meek, also of Elba, and Patrick Meek of Fairhope; and an uncle, Waylon Wallace of Kinston.
---
AAES Helps Publish Acclaimed Wildlife Books
Everything you ever wanted to know about Alabama wildlife is now at your fingertips in a four-volume set of books published by the University of Alabama Press. And the reviews have been glowing.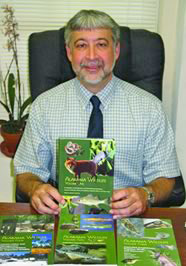 Professor Ralph Mirarchi
The books, which are sponsored by the Alabama Department of Conservation and Natural Resources, Division of Wildlife and Freshwater Fisheries (ADCNR-DWFF), provide detailed information on selected invertebrates (freshwater mussels and snails) and all the vertebrates (fishes, amphibians, reptiles, birds and mammals) of Alabama. They sprang from an Alabama Nongame Wildlife Program meeting held in 2002 when wildlife specialists from across the state and region met to discuss the status of Alabama's wildlife populations.
The books replace two publications released in the mid-1980s following the first official Alabama Nongame Wildlife Program meeting.
The set of new books is more extensive than the previous publications and includes volumes that are useful to scientists and lay readers alike.
The first volume—entitled A Checklist of Vertebrates and Selected Invertebrates: Aquatic Mollusks, Amphibians, Reptiles, Birds, and Mammals —is a field guide to all vertebrates and selected aquatic invertebrates found within the state. It provides brief descriptions of each species, including scientific and common names, distribution, habitats used and level of conservation concern, and features color photos of many species.
Volumes 2 and 3—entitled Imperiled Aquatic Mollusks and Fishes and Imperiled Amphibians, Reptiles, Birds, and Mammals , respectively—focus on at-risk wildlife species in the state. Both volumes provide detailed descriptions of imperiled species, including anatomic characteristics and further detail on their habitat, distribution and the factors that have put them at risk. Color distribution maps and photos of selected species also are included.
Volume 4, Conservation and Management Recommendations for Imperiled Wildlife, contains detailed information on how to conserve the at-risk species and is directed at people involved in the study and protection of such populations. It also offers recommendations useful to land owners and managers for action to help protect or preserve habitats of these vulnerable species.
Ralph E. Mirarchi, who is the William R. and Fay Ireland Distinguished Professor of Wildlife Science in Auburn University's School of Forestry and Wildlife Sciences, served as senior editor of the books and coordinated the collection of information from experts across Alabama and the Southeast.
"Alabama consistently ranks among the top five states in the union in terms of wildlife diversity, but we also have the dubious distinction of ranking second in the nation in the number of extinctions," Mirarchi says. "I hope these four volumes will serve as a clarion call to all that it is now time to take the conservation actions necessary to save some semblance of our wild cultural heritage for future generations of Alabamians to enjoy."
The books were made possible by a grant from ADCNR-DWFF. Underwriting, editing and design assistance were provided by the staff of the CoAg/AAES Communications and Marketing unit.
"Scientists from many natural resource disciplines willingly contributed valuable information as well as their time to make these volumes as up to date and accurate as practical," says Gary Moody, chief of ADCNR-DWFF's Wildlife Section who helped lead the effort to compile and publish the books. "Their efforts have provided the foundation for much of the conservation work that will be accomplished over the next several years."
Several reviewers have given the books great reviews, including the owners of the Capitol Book and News store in their July 25 Montgomery Advertiser newspaper column who said, "Kudos in the extreme are due to the University of Alabama Press for publishing this remarkable set of books, and to the editor, Dr. Ralph Mirarchi of Auburn, and his huge team of contributors."
The books can be ordered individually or as a set. To order any or all of the books, call 773-702-7000 or visit www.uapress.ua.edu.