Student Enrollment in College of Agriculture Continues to Increase
By: Bill Hardy, Associate Dean of Agriculture
The official 2004 Fall Semester enrollment count for students in the College of Agriculture showed a significant increase of 4.5 percent from 836 in Fall Semester 2003 to 874 students for this term.
This increase of 38 students is even more important when we account for the efforts of the University to limit the size of the entering freshman class so that capacity for offering core courses will not be exceeded. Enrollment campus-wide decreased 1 percent to 22,928. There was also a slight increase in the total number of graduate students in the College to a total of 207, making total College of Agriculture enrollment 1,081. This total is the highest since 1995, when there were 1,100 students in the College. Undergraduate students in the College major in seven different degree programs—Ag Economics and Rural Sociology, Ag Communications, Agronomy and Soils, Animal Sciences, Fisheries, Horticulture and Poultry Science. All of these programs except Ag Communications offer graduate degrees. In addition, the Department of Entomology/Plant Pathology offers strong Master of Science and Doctoral Degree programs.
The largest enrollments in the College are in Animal Sciences, with 329 students, and in Horticulture, with 228. The Ag Economics and Rural Sociology curriculum showed the greatest relative increase over the past year, growing 17.8 percent to 139 students. As has always been the case, males outnumber females in the College, but the margin is narrowing. Undergraduate enrollment this Fall shows 343 females (39.2 percent) and 531 males (60.8 percent).
Several factors have contributed to the continued growth and strength of the academic programs in the College over the past years. Some of the most important are as follows:
CoAg programs produce quality graduates who are in demand by business and industry and who perform successfully in the pursuit of advanced degrees.
Many students are realizing that the diversity of CoAg programs provides an excellent foundation for successful careers in areas that are not typically directly associated with production agriculture. Positions in research, medicine, law, government, finance, sales, product and market development, food safety and international development are but a few of the many exciting areas of employment enjoyed by graduates.
Aggressive recruiting efforts by the College and individual departments have helped to ensure that all high school and junior college students across the state and region are aware of the quality programs and opportunities that are available in the College.
Continued positive support by an active Ag Alumni Association is helping with recruiting and spreading the word about the College's excellent programs.
Current students help with continued recruiting efforts. When existing students tell other current students and potential students about all that the College has to offer, it makes it very easy for others to see the value in coming to study and learn with us.
We have a supportive and excellent faculty who make learning exciting and interesting for the students. These faculty, who have been selected by the AU Student Government Association as the best on campus, do an exceptional job advising students relative to academic and career interests.
THE COLLEGE IS JUST PLAIN GOOD!!! As we compare the College of Agriculture to other schools and colleges across the campus, we see that we are maintaining our position as one of the strengths of the University. Undergraduate enrollments show that we rank seventh out of the eleven schools and colleges in the University.
---
Learning Communities Help Freshmen Make the Grade
By: Suzanne Shaw, CoAg Academic Adviser
Two years ago, the College of Agriculture established its first "learning community," an innovative approach to learning that is designed to help freshmen adapt to the academic pressures of college and have a successful, enjoyable college experience.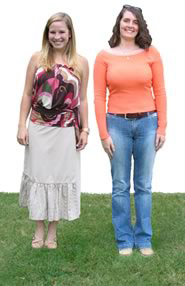 Amanda Hibbert, left, and Suzanne Free find firm ground in the CoAg learning community.
Suzanne Free was one of 18 animal sciences pre-vet freshmen who signed up for and participated in that learning community, which was for students in animal sciences. Today, Free, a junior in animal sciences, says joining that learning community was one of the smartest decisions she's ever made.
"The animal sciences learning community (ASLC) allowed me to be a part of something that truly changed my 'Auburn Experience,'" she says. "There's no value that can be placed on the impact that the ASLC has had on my life. I wish that everyone who comes to Auburn could be as fortunate as I have been to be involved in something as wonderful as this. I hope that the ASLC will continue and that more College of Agriculture learning communities will be formed in the future."
What a great feeling it is to have a student make such a comment about a program that you help with.
It was in 2002 that I had the opportunity to assist CoAg Associate Dean Bill Hardy in setting up that first College of Agriculture learning community. We felt it was important to offer this program to our freshmen because we had seen research on learning communities at universities across the nation, which shows that students involved in these programs are more likely to make friends with a diverse group of students, get to know their instructors, feel more confident about being in college, stay in school, earn higher grades, become more involved and motivated, finish college faster and become more intellectually mature and responsible for their own learning
During their first two semesters at Auburn, the 18 students in the first learning community took a group of core classes together, including the Auburn Experience and Success Strategies. That group was so successful that we have continued on with the concept.
In the 2003-04 school year, we added a second learning community for general agriculture students and expanded the ASLC to include poultry science pre-vet and fisheries pre-vet students. We ended up with a much larger group for the pre-vet community—seven—with 11 general agriculture, and combined them both into one class for Success Strategies and The Auburn Experience classes.
At Auburn, the learning communities program is available to freshmen in the colleges of Agriculture, Business and Liberal Arts. Incoming freshmen interested in being involved in a learning community must submit essays explaining how and why they would benefit from the program.
For the 2004-05 year, we have had even more success with meeting our maximum limit in both of the CoAg learning communities, with 15 students in the general CoAg learning community and 20 in the pre-vet. We have a very large combined class, but this will help all of the students to get to know one another and find study partners for courses that tend to be most challenging to freshmen.
In the learning communities, we have had students from as close as Opelika and as far away as Santa Clause, Ind. I am convinced that it has given all of these students the opportunity to learn about different aspects of life and meet the expectations of others and of themselves.
Kelly Ridley and Blair Woodall, both of whom were involved in CoAg learning communities this past year, feel strongly about the program and its benefits.
"I think that the learning community gave me firm ground to stand on throughout that tough first year," Ridley says. "Through the learning community I met many people who I will be friends with for years to come, and these people have helped me through some hard times, both in school and in other aspects of my life."
Woodall echoed those thoughts, adding that, for her, the learning community "was kind of like my stepping stone into the college life."
As Amanda Hibbert , an ASLC alum who is a rising junior in animal sciences, says, "Every student goes to college with the expectations of meeting new people and taking difficult classes. With the learning community, our group formed friendships that will last as well as study groups to help tackle the classes we share."